spazcalm lotos replay milvio serena
The Eurythmics have a song - "This is the House" a bit of Spanish-language nonsense sung by Scottish people over spastic electrobabble. That's how I feel just now, though I haven't heard the song in years.
I'm in Chicago this week, enjoying time with my family. Thanksgiving is my Mom's favorite holiday - she loves family gathered around food. I brought my video camera, I'm filming her cooking and hosting. And this weekend I hope to interview my relatives about my Mom. Not sure where all this is headed but it's fun.
So this morning is an exciting time, sitting down at my computer before I join my family. The storm before the calm. In this time I'll post some photos from my recent trip to New York, last weekend.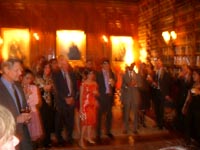 Pictured center, Ethan and Alexis, good friends from college, had an "engagement party" in New York - celebrating a wedding when the date could be far off? They hosted friends and family at the Lotos Club, a private club for writers on the upper east side. Steeped in tradition, demanding formal attire. Before I was allowed in to the party I had to make two trips to the men's room to change pieces of clothing.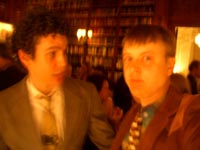 Wilson showed up, in a suit, shirt and tie of SAME design. And he talked the Lotos club into tennis shoes! After the main event, Wilson gradually amplified his social chaos level, tossing wicker footstools at the Gramercy hotel, lunging and reaching for love. I stayed calm, towing my luggage and sitting speaking in low tones with our host. Energy conservation! I may have been on the road, but I was nursing memories of the IV.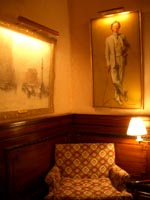 The walls in the Lotos Club are decorated largely with paintings of members or by members. Here hangs Tom Wolfe off the lounge in the lobby.
Not pictured here, RePlay book launch party and art fab. More beautiful work by Zack Simpson. And the change to hold in my hands a book about video games I hypertexted two years back. With editor Amy Scholder and Eric Zimmerman of GameLab, I combed the printed proceedings from a game conference, looking for words and terms about video games to define and describe in footnotes and sidebars. It was great fun, and I was able to include my own aknowledgements. The book is available, barely, on Amazon.com. Michelle took photos.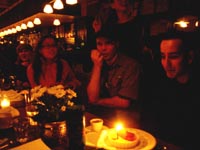 Another occasion to celebrate in New York - Silvio celebrates his birthday with Jon beside him, Souris beside him, and Michelle beside her. Besides them, the excellent Ben, Amy, Hilary, Nick, Eric, Justin unseen. Dinner at Markt, fun at Apt.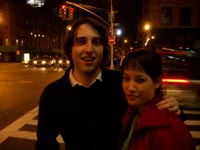 Old friend Amy showed up with her boyfriend, Nick a fellow writer celebrating the power of media to stroke and be stroked.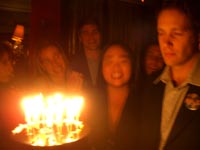 Leigh, Megan and Jesse
A third social gathering in short time, grade school chum Jesse celebrated his birthday at Serena, a club beneath the Hotel Chelsea. One of those places where they stop you at the door telling you the place is full, and then look over your shoulder to invite in someone else. Fortunately, I was travelling with Michelle, and our combined charms won us entry before the sad fellow who had allowed himself to become irritated. Upset, he had asked the bouncer his name, and the bouncer replied "My name is go fuck yourself." Why bother with that much stress just to consort? Fabulous people below, and good old friends - I enjoyed sharing news of my nearly departed shingles and ringworm. Finally I could hear myself speaking of illness and leaning back and forth unable to socialize well, so I retreated to my quarters.
My quarters were with Souris and Silvio. They were kind to give me a bed, power and fried eggs. And a sense of their organized strength. People stopped Souris on the street to recognize her and establish future contact. She showed me her elaborate filing system for personal financial records. Admirable positive coherence for two young gamers! I dropped in on a birthday weekend with just a few trinkets, but I worked to introduce them to some new friends. Souris saw something strong in our exchange, as did I. Ever grateful to Wayne for introducing us.
Of the four events, I made toasts at three. At Ethan and Alexis's event, I reached for the microphone early on to celebrate their confidence and strength of character. I ended up being the only one of their contemporaries present to celebrate their union - the other remarks were largely older folks welcoming them to marriage. I held them aloft as an example for their peer group, like me, increasingly curious to imagine my own engagement party.
At the Replay event, Eric Z made some remarks and said he was the most extroverted person there so that should end the speeches. I had just one comment to add, pointing out to the assembled that the proceedings of a conference published four years after the event still had relevance. Though they covered technology and entertainment, two fields changing rapidly, the issues discussed were timeless. Most people took away from my abbreviated presentation that I was demonstrating that I was extroverted on par with Eric.
So Eric finally upped the ante by hammering on a glass with some silverware at Silvio's birthday, to announce that I would be making a speech. Unaware and unmiffed I opened my mouth and pumped my heart. These were generous people, I pointed out, Silvio and his partner Souris, people who are curious and eager to share life with new friends. Good behavior to model as we travel and work together!