Friday, 28 November -
link
John By Jove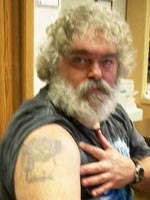 This is a picture of John Northage, a strong-handed healer and warm spirit who does fantastic body work on the north side of Chicago, at the Chicago College of Healing Arts he co-founded. His partner Althea took me on one of my first guided meditations when I was about twelve. For years, when I was growing up, they introduced me to alternative means of healing and spritual thinking. So when I come back to Chicago, I make a point of visiting them again. This time, I was thinking to myself, man, John sure has a wonderful expansive look to him, kind of like the mythical Zeus. He rolled up his shirt-sleeve to show me a Zeus tattoo and posed for this picture.
Posted on 28 November 2003 : 13:38 (TrackBack)
Read Comments
February 2005 - comments are closed on Links.net. Thanks.