Japan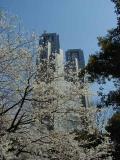 Tokyo is a uniquely dense city. The buildings crowd each other in a cacaphony of styles and shapes, and between them is all manner of advertising, lighted placards, large public televisions and a few cherry trees. The inhabitants of Tokyo, overwhelmingly Japanese and only occasionally foreign, pack many of these places tight while still observing rules - people there jaywalk the least of any civilized people I've been around.

It's a consumer paradise of expensive goods and delectable food. There are neighborhoods where you can find any piece of high technology in the man-made world, and markets where the sea is dredged up to fill a sushi slaughterhouse.

At the same time, it's possible to stay in Tokyo comfortably for under $50 a night (which would be a feat in New York and San Francisco), and there are homeless people asleep in the subway.

Much of Tokyo will remind you of any of the world's big cities, albiet with some notable differences, and strange strange exclusions.
I first travelled there in March/April 2001 for the Spring Tokyo Game Show - a presentation of Japanese video game hardware and software. Howard provided some wonderful friends and I met others on the road.
After the trip, curious, I signed up to learn Japanese. In over my head in a serious class, I learned more Japanese than I expected, ultimately writing a Sakubun. Meanwhile I started reading books and surfing the web about Japan.
I made a return trip to Japan in August 2001, with my brother Colin. A little bit of language and some familiarity with the town was very helpful, but not as helpful as Sanae, who I met on my first trip.

She urged Colin and I to go see the Yasukuni Jinja, a shrine reflecting a sort of National pride side of Japan I hadn't seen before. Later Sanae came to visit me in Oakland and brought me an ear pick.
In October 2001, I moved to Japan indefinitely.

Working as a freelance writer, I first settled in Tokyo, in a "mansion" in Uguisudani. My apartment was in the old part of Tokyo, populated with Love Hotels, Yakuza and prostitutes. And museums. And many many crows. Often in the company of Ayako, I left my neighborhood to visit Roppongi and a rave on Mount Fuji. I joined the Foreign Correspondents' Club of Japan.
Ultimately Tokyo was too much for me, so I took to the North Country, Akita, in the depths of Winter 2002. Snow up to my neck! And lively Snow Festivals.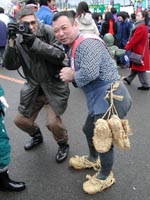 I was writing about about mobile phones in Japan during most of this time, using my fancy camera phone as a basis. This was before camera phones existed in the United States and Europe, so I was able to sell a good number of articles about these fancy multimedia handsets and what people might do with them.
Finally after wandering the streets mostly alone, sleeping in capsule hotels and love hotels, I found someone who was a good source of conversation, inspiration and company. After meeting up for a date in Tokyo in April 2002, Jane and I moved to an apartment in semi-rural suburban Tokyo. Starting in fall 2002, we wrote about games for Game Girl Advance, mobile technologies, and mixed-culture issues for Chanpon.org.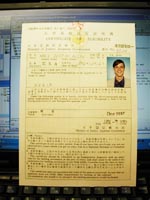 And after months of screwups and paperwork, I finally acquired a Journalist Visa - even as a freelancer!
Then, after about sixteen months of living mostly full-time in Japan, I just kinda got tired. Jane and I were having a tough time being broke, in the suburbs in the winter. We missed our friends and the Northern California culture. I rode the train most days to work, and I was tired of standing up most of the hour-long trips. I was tired of being stared at, like people couldn't decide if I was a movie star or a mugger. I stood out, which was fun at first, and still could be fun. But I realized it wasn't much of a mode for casual living. At least for me, at least not then.
These are some of the issues explored by Chanpon, a web site I help out with, exploring issues faced by people living between Japanese and foreign cultures.
We moved back after January 2003. I've tried to visit Japan at least once a year since then; people and projects I want to keep up with there.
justin's links by justin hall: contact