links.net
:
vita
:
sf
: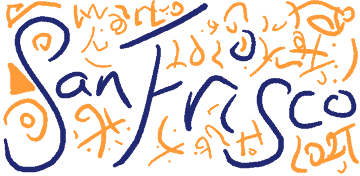 San Francisco

what would you expect of a city named for a religious ecstatic who shed his clothes, talked to birds, and recreated himself on the far side of spiritual bliss?

When I was nine, I started coming to San Francisco to visit my sister. I used to say it was my second favourite city in the US, next to Chicago, the town of my birth. Now I'm not so sure about Chicago.

This city is tolerant of extremes. At least the citizens are, the #*@! police can be pretty overzealous.

Folks often sell stuff on the street; sometimes you get a bargain, sometimes you get junk.

Finding a place to live in San Francisco can be hell.

In June of 1994, at nineteen, I moved here to work for Wired magazine. I lived with Chandra, we lived with the Cyborganities in the Mission District, a culturally rich, property value poor neighborhood.

My first week at Wired, my second week in San Francisco, I met Haia, my first brush with San Francisco over-friendly freakishness.

November of 1994, I rode the bart train to a band tryout and had a small scale stoned conversion.

San Francisco is populated by spiritual extremists, freaks and weirdos seem more tolerated around here. I certainly haven't met so many folks like Maritza, Annette, Nadia, Spoonman, Jennifer, and Rebecca in other cities.

There's a fair amount of madness, dancing, neo-pagan rituals like Burning Man, and a solstice rave.
favourite thai: thep phanom | sushi: ebisu
---
When I'm here, I listen to KUSF 90.3 FM.

Bay Area Mass Transit Clearing House

Sometimes I go to an SF Rave.

If I'm in town, I go to Thursday Night Dinners at Cyborganic.
---
life |
justin's links by justin hall: contact