links.net
:
vita
:
sf
: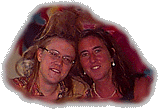 christiana

abbe sent me to her when my hands went out,
she does massage, but like energy work too

reminds me of ted, I would go to visit him, rattle on, and he would say, bullshit, that's not what's bugging you,

similarly, if I ever expected her just to take the knots out of my back,
hah

she can feel when I've done drugs, when I've otherwise lost track of things,

and we have to work that out before we deal with anything else

she's a teacher,
brings me into my body, furthers my pursuit of clarity

and she's helped me enormously. when the vacancy rate in san francisco dropped from 2.0% to 1.4%, she found me a place for $300 a month. not a bad place either. then she sold me her old comforter when I was cold.

pretty cool.

she thinks I'm like developing and shit, learning, so I shouldn't leave these lessons like I've left so much else

she's got background, pretty quick into our relationship, she had probed into my dad,

I even sent my sister chris to see her!
justin's links by justin hall: contact