たつがくどう Tetsugakudou is about the richest bowl of ramen in Tokyo. Sure you can order a pat of melting butter floating on a bowl of fried noodles in oily pork-fat laced broth. But Tetsugakydou is the devil's broth and its power is not to be disputed.

It's a bowl of black magic: thick rich pork broth, topped with a layer of floating fat. Black magic is typically considered evil. And if you approach a bowl of ramen at Tetsugakudou wrong, you will feel ill. But when handled with caution, black magic can teach you about the shadow side of the creative forces behind most of our existence. This ramen will make you face your own mortality. It's a powerful eating experience and it can definitely overwhelm.

The broth has a heft to it, a palpable weight not typical of normal spice and broth. This is nothing if not animal energy transmuted through liquid. Pork is the basis for the soup and it is a meal in and of itself.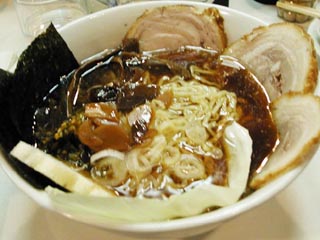 This poor bowl of ramen doesn't have any egg in it; when I ordered it I didn't know any better.
Add thick cut circles of carefully shredded and recompiled smoked pork with generous ribbons of fat. Delicious tender smokey meat.
Perhaps the most delicious rarity of the ramen here - the liquid yolk of the sliced egg, floating on top - two golden puddles of sumptuous golden milk, having soaked up a touch of serious salty pork flavour. If you can chopstick the eggs up to your mouth without spilling their center, the slightly cool salty sweet fat puddle is the flavour highlight of this ramen meal.
After eating garlic pork ramen a few times, I ventured to try their tomato ramen; a ramen combination you won't find a too many other restaurants.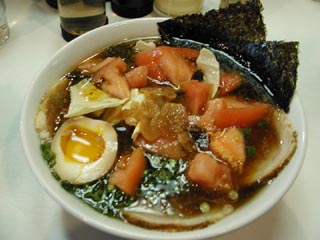 Here the usual delicious yellow globules of floating fat and brown sustenance have been offset by bright red, fresh tomatoes.
I ate here my first night after I moved to Japan, because it was close to my Uguisudani mansion. I thought it was sure strong and tasty. Then I ate at some other ramen restaurants and they served hard boiled eggs, or machine processed meat, or thin, salty or just hot spicy broth. I longed for the nourishment of Tetsugakudou. Returning regularly, I was occasionally struck by the ramen; I was not prepared to eat it. There must be a proper sort of hunger before one can eat here. It is rich beyond compare. At seven hundred yen per bowl.
In April 2002, I visited with a Japanese friend. I was truly delighted when she pointed out that Tetsugakudou, the name means "philosophy house." I sat beaming through the meal after that - there's something deep about their bowl of ramen, I knew, but that it was philosophy this ramen shack I've been enjoying, well it just made it seem ever more my home. The daughter of the owners was there, she knew of me since I had presented them with my meishi telling them I had written about them on my web site. She introduced herself and we spoke of the restaurant and ramen just a few moments before the busy Saturday lunch swell reabsorbed her. She said that Tetsugakudou originated in Yokote, in Akita. It's too much of a coincidence - this is the one of three other places in Japan where I've spent more than five nights. They believed in being focused on excellent ramen there. They only started making plain rice and kimchi to add to the menu when their customers demanded it. So they named the restaurant philosophy place to remember that it all started with a belief in strong ramen.
I'm a believer!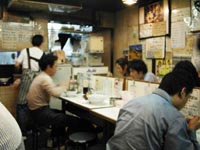 Here, effort is spent primarily on the broth, not on the decorations.

The restaurant itself is conveniently located but hard to spot. A low-ceilinged shop amidst Uguisudani business, next to a highway onramp. Inside are thirteen stools, four on either side facing each other, and five facing a wall. A TV plays. There's a small shrine. A bookshelf holds some old manga books. On the walls, menus and some faded photocopies of old articles praising the place.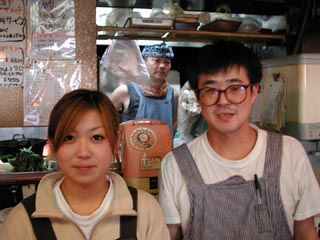 The folks who work at Tetsugakudou.

Per through the partitioned wall and you'll see a hard working cook, with a large black bowl bubbling something fierce behind him. I snuck a photo of that; it's hard to see, but the burner has been melted and the pot has been caked and corroded both. Serious magic at work; this is a cauldron if 'ere there were one: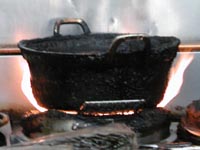 I've seen a wide range of Japanese folks eating at this restaurant - well dressed gangsters, afroed day laborers, business men in suits, dreadlocked pierced deviants. And a foreigner fan: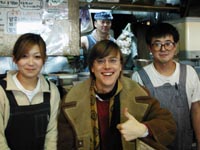 A supplicant honors ramen magic.

Most of the clients are men. Most of the young men order their ramen smothered in green onions, and then they pile more on top: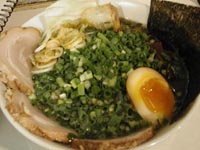 Directions and Hours, Maybe
The restaurant is open from 11.30 until 14.30 for lunch and about 17.30 to 21.30 for dinner.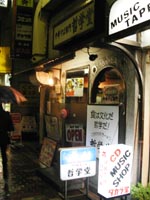 They're not open Sundays, darn it. You can find it from the Uguisudani station on the Yamanote line; exit from the end of the platform where you head downstairs (the only other end heads upstairs towards Ueno Park). Once out of the station, take a right on that road, not the one paralleling the tracks, but the road with a McDonald's and a bank, and a cafe, those sorts of businesses (not love hotels and pubs). Take a right when you reach the large intersection, there's a camera store there (about one short block from the train station). Head about thirty seconds down the block; if you pass Family Mart you've gone way too far. Look for the CD/Music shop lighted sign. Of course any of this could change tomorrow.
I think I found it on Google Maps.