カプスル ホテル
Capsule Hotels
Dwellings in Japan are typically personal spaces. Dense, perhaps small, they're not for sitting around with friends. There are restaurants for entertaining and being social, baths for cleaning up and unwinding, coin lockers for storing things temporarily away from home.

Tokyo in particular is built to support people working away from home. A number of "Capsule Hotels" around the city, near train stations, absorb men who miss the last train home or just aren't sober enough to stumble home.

In the spring of 2002, I spent about five weeks transient in Tokyo, living in capsule hotels. Since I had a temporary office at the Foreign Correspondents' Club, I found myself able to put off finding a place to live for a number of weeks. I would work and fraternize at the club and out in Tokyo, and then when it came time when everyone else went home, I would just ask at the train station for the nearest Capsule Hotel. Usually there's some place to sleep costing less than 4000 yen nearby (about 30 dollars). According to my math, that would be what I would pay for a place I would leave my things and sleep otherwise. The primary drawback here? My belongings were stored in a locker on the other side of the city.

Thin white fiberglass. Narrow mattress on the floor. Electronics console in the capsule wall, TV above your knees. The capsules themselves are about the minimum amount of space required for human dwelling. You can sit up and read, lay there and watch TV. At the end, you close a thin curtain between you and the ten to seventy other men sleeping in the same area as you. Wearing earplugs helps cut the noise. Sometimes there's a hole providing some air circulation.

Flexible, at times strange, commendably modular and self-contained, they are, none-the-less, after two weeks, a bit downpressing.


Detailed Coverage of the Capsule Hotel Fontaine Akasaka


Always this patterned near-macrame brown string curtain between you and the world when you sleep.


A view of myself in the morning after a night in the Shinbashi Rainbow Inn Capsule Hotel.
capsule overview:

around the yamanote
a study conducted between 11.30pm and 12.30 with station managers and policemen, asking, where are the capsule hotels?

note: they will tell you what time checkout is - 9, 9.30 or 10. often the showers or baths are closed a half hour earlier, for cleaning.

Akasaka
Capsule Hotel Fontaine Akasaka
My first Capsule Hotel I documented quite deeply.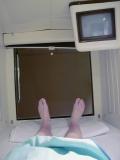 shinjuku - the green plaza
660 capsules in one mega-building with massive labrythine bathing facilities, wander far enough and emerge naked overlooking Shinjuku skyscrapers.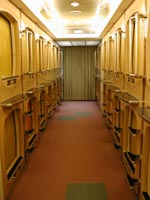 Facing rows of sleeping compartments.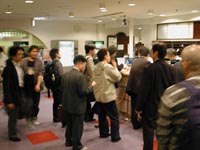 Men line up for human lockers at 1am, the rush for the 660 capsules at the Green Plaza near Shinjuku's sex-for-sale zone "Kabukicho."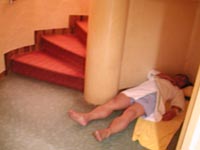 This man never made it to his capsule; he passed out under the stairs at the Green Plaza.
Shibuya:
Capsule Land
Large, near Love Hotel Hill. They'll try to make you buy a ticket for your capsule from a vending machine, but you can pay with a credit card behind the counter.
312 -
nondescript standard aging capsule hotel stuffed with salarymen
Omori - Mizuho Capsule Hotel
At Omori, the Mizuho Capsule hotel is new, with great roman-styled baths and they accept credit cards.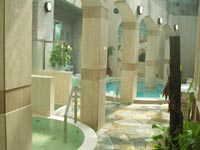 Elaborate baths.
shinbashi
there are four and a half different capsule hotels in the shinbashi area.
shinbashi capsule inn
this is where you'll likely be sent first; it's closest to the train station. it fills up fast though, and when they're full they'll give you a small difficult to follow map of the neighborhood with other capsule/business hotels on it.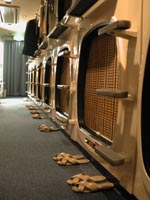 Slippers lined up neatly outside occupied capsules
Shinbashi Business Inn one and annex
A bit of dark polished decor gives this place the right to charge a little bit more for what otherwise seems like normal capsule service. Quiet atmosphere, no baths. No credit cards either.
Capsule Hotel Shinbashi
Might feel to you like a family run operation from the tiny landing area staffed by casual people. Small operation.
rainbow inn
the very nice lobby is like a hotel. a rare touch of class for checking into a capsule. the capsules themselves are standard. Three channels of porn, including dubbed American porn. especially those on the fifth floor, sun floods into the room at sunrise, like a solarium. hang your robe over the entry for double extra shielding. they offer singles as well. the only capsule in shinbashi with baths and a sauna. checkout 10am. no credit cards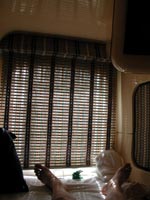 Sun shining through my curtain in the morning.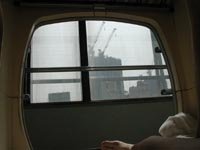 The morning view out of my Rainbow Inn Capsule.
okachimachi
the Oriental, alongside the yamanote train tracks, adjacent to the oriental pachinko parlour. A good number of old men with too many bags make this feel (and sound) like a combination shelter/tuburculosis ward. Less salarymen, more interesting folks. Marvellous large baths and sauna.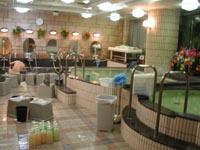 Beautiful baths at the Oriental Capsule Hotel in Okachimachi.
In-Depth coverage of my first capsule hotel.
About.com's Barebones Listing of Tokyo Capsule Hotels.
justin's links by justin hall: contact