foreign in Japan:
j o u r n a l i s t 's
v i s a

August 2001:
When I planned to move to Tokyo for a year, I figured I would need permission from the Japanese government to reside in that country. Sure I could come and go on the flexible 90 day tourist visas, like most of the footloose reporters and business people I know. But what if I was caught and questioned by the police after a street art performance? What if I am coming and going from Korea to renew my visa, and they detain me at the border or ask me to return to Korea? That would make renting an apartment in Tokyo an expensive waste.

Some folks recommended I sign up for an English teaching program to get one of their ready visas, and then quit after a few weeks. But I didn't want to lie.

So I set about getting a visa to live in Japan for one year. It's immediately apparent the the process, at least from the Japanese perspective, is designed to prove that you are affiliated and upstanding. Affiliated - some company or established group is sending you as a representative. It seems the visa comes most quickly if you have some affiliates who are Japanese. The visa process requires first securing a "certificate of eligability" which you can only get by visiting the visa office in person (or having "a representative of the Japan office of my company" handle that for me, the woman at the Japanese consulate in San Francisco helpfully suggested).

I had friends in Japan, and I considered asking them if I could serve them in their companies, but I valued their friendship more than their paperwork (though maybe in the future I will want to step down from that high ground). Besides, I have a legitimate claim to being a freelance journalist these days!

Turns out "freelance" is a tough legitimate claim to have. It's a strange status - freelance writer - by nature there are few affiliations. I make the money I need to survive (they want to be sure you're economically capable), by taking ideas and selling them to different publications as they come to me. I don't have any steady gigs, though I had just signed a one year contract with TheFeature.com to provide occasional updates.

So I'm a freelance writer, with a gig working for a web site. The web site is based in Finland, I'm based in California. I write sometimes for them, and they pay me different amounts of money. TheFeature is sponsored by Nokia, but I can't impinge on the Nokia Japan office as my agreement is with only The Feature. The story was difficult to explain in any language, let alone broken Japanese English at 9pm phone calls to Tokyo Bureau of Immigration.

Fortunately, my brother Colin was arranging a trip to Tokyo and invited me to go with him, two months before I had planned to move to Japan entirely. I was able to visit the Ministry of Immigration in person and file my own paperwork. The first day I arrived at four, sweaty in a suit and bow tie, to discover they closed at four. I managed to snag the forms from a busy, slightly purturbed woman.

The forms were fairly daunting - questions about my address in Japan. My employer's founding date (not too impressive for most web sites). The type of business they were in. Their annual sales (for a sponsored research web site magazine?).

I still didn't have my freelance contract from Nokia/The Feature faxed at my hotel, so I went in the next day for a consultation to ask about the fluid nature of life and the meaning of paper. The gentleman I met with, in English, suggested that I provide a list of my previous articles, any freelance contracts I had ever signed.

Nearing completion of the first round, I approached the counter. Here was my form, but gomen nasai, I don't have an address in Japan. Is that okay? Why not? Where do you live? Where do you plan to live? Hmm. Okay, that is okay - just leave it blank. As I handed in my requisite purchased envelopes and stamps, I wondered aloud, how would they mail me my certificate with no address?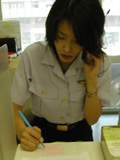 I needed an address in Japan for mail. Finally, I relied on a Japanese friend for an address. Kenji came through on the mobile phone.
I filled out the three page small box forms in pencil, to allow for error correction. Of course pencil doesn't fly for entries into a paper-based system of record. I grasped the rapidly dwindling nub of a mechanical pencil eraser and scrubbed my sheets clean, to redraw all my answers in pen.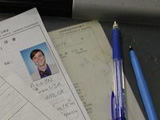 Going through this process has been instructive. It must be at least this hard for most people to register to live in the United States as well.
When I moved to Japan a few months later, I went back to check on my visa status. They wanted more paperwork. I presented all the contracts and samples they had requested last time. By now I had joined the Foreign Correspondents' Club; the visa officer looked very impressed by my membership card and asked if he could photocopy it. They didn't ask for it, but I added to my personal information pile a letter of recommendation, from Joi Ito, in Japanese, explaining why he was important and why he thought Justin would be good for Japan. Something like that.
February 2002:
After some weeks, and after using two or three more tourist visas leaving and re-entering, I received my Certificate of Eligability in the mail at Kenji Eno's office. This felt like a real achivevement! I think I went out and had some drinks to celebrate.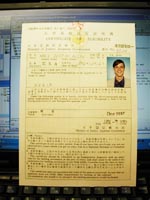 I flew out of Japan with my certificate of eligability in my hand. Returning to the Tokyo airport, I strode up to the passport control at Narita and presented my passport and my journalist's visa certificate of eligability. After some confusion, I was escorted deep into the bowels of the aiport to fill out a form explaining why I hadn't gotten my Visa. I hadn't read the plain english on my Certificate explaining that I had to present it at a Japanese consulate outside of Japan to get my visa.

After composing a letter of apology there in Narita, and agreeing that I would persue my visa posthaste, I was allowed in an my fifth tourist visa. During my next visit to the Ministry of Immigration I filled out forms for a "change my visa status" and left them my passport. I was mailed a postcard telling me to appear again at the Ministry of Immigration to pick up my passport, now with a Journalist's visa pasted into it.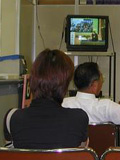 waiting at the ministry of immigration

I thanked all the people immediately adjacent, and remembered to ask what I should do since I would be leaving the country in four days time. Downstairs I would need to pick up the forms to apply for a re-entry permit. But I couldn't apply for a re-entry permit until I had my Alien Registration Card. Apply for that at your local ward office, I was instructed. Local ward office? Oh! You can't get an Alien Registration Card if you don't have a place of residence in Japan.

It was a warm, waning Friday afternoon. I asked after the Ward office for Chiyoda-ku, which is where the Foreign Correspondents' Club is located. "I'm sorry sir, you can't register for residency where your office is." Not having another choice, I thanked them and left the office. Out of the street, I called the FCCJ and asked the receptionist where I could find the local ward office.

I trotted into the Chiyoda-ku ward office 17 minutes before closing time that Friday afternoon. Slightly excited and breathless I explained that I was leaving town and I needed to get my registration card as soon as possible. Did you bring your passport photos? Horror struck me still. The man behind the counter smiled. Drawing out a map from beneath his desk, he pointed to two photo shops. You can get your photos here if you hurry.

The photo shop understood my need for speed. I ran there and back, making it back, panting and sweaty holding my black and whites. He took my form, agreed to fill it out himself (it will be faster that way, he observed, watching me painfully copy Kanji characters off my FCCJ business card). I didn't ask it if was okay to register at my office; he didn't seem to care.

Smiling again, he told me to come back in three weeks. I looked slightly alarmed; what about leaving the country next week? He gave me a recipt for my Alien registration card, proof that I could use to get a re-entry permit this next time leaving the country. And a packet of information about Chiyoda-ku, now that I was a resident, I was entitled to ward classes, the ward gym, and I could rent a unit at the resort built for the 32,000 residents of the Chiyoda ward. The Chiyoda ward, by the way, encompasses the palace and a lot of offices, so there's not that many residents here. Me and the Emperor, and some other folks I guess.

Next time at the airport, I had lost my recipt for my gaijin card and I had no re-entry permit. They wouldn't let me leave until I had spent seven minutes buying a re-entry permit at the airport. That was zero hassle.

I have yet to pick up my alien registration card. If they made one for me! I leave the country next week again. Maybe they'll trip me up. I travel so much, I haven't yet been in Japan for more than 90 days, the case when I would need this visa. But some journalists at the Foreign Correspondents' Club tell me that now with my visa I can get official Foreign Ministry Press Credentials. These entitle me to subsidized press junket tours of distant prefectures, and might save me from a paddywagon coming out of Department H. Maybe.

June 2002:
In June, eager to leave Japan, hurrying to be in love no longer long distance, they cancelled my Journalist's Visa and Alien Registration card at the airport in Tokyo. I didn't have a re-entry permit and you're only allowed to ever buy one at the airport. "You travel too much and you don't have the right paperwork - you should get a different visa," the man sternly stated. It had been an enormous amount of work to get these official credentials. I tried arguing for understanding, exception, compassion, logic. The immigration man looked hard at me speaking in rapid terse angry Japanese. I don't understand you! I said, please slow down. He stopped and looked at me, "Wagamama. You are wagamama."

I went to the Consulate General of Japan office in San Francisco, to ask after a new sort of visa. I have to restart the application process, producing original copies of the same mountains of paperwork now on file at the Tokyo Regional Immigration Office. This time, they want more letters of reference.

September 2002


From: Friday, 13 September -<link>

Nuance

There are many interesting questions in life. Right now the most interesting question for me is, will I be stopped at immigration in Tokyo when I arrive on my flight on Thursday?

Recap: I got a journalist visa, I forfeited it when I last left Japan, I reapplied in San Francisco this summer.

Update: They asked my sponsor, Joichi Ito, to call (because he is Japanese, he might "understand the nuance" they suggested). He did, from Europe. Nice of him. He reports, "They didn't ask me anything, but told me that the Tokyo office of the Ministry of Foreign Affairs was reviewing your case and that they would then consult the MOJ. That's all they said. They said this is not necessarily standard procedure, but also not uncommon. Maybe the "nuance" they wanted to convey was that they are wrapped up in a bureaucratic mess..."

Jane's Mom suggested I visit the Consulate General of Japan in San Francisco in person, to tell them that I must be in Japan next week to cover the Tokyo Game Show on a writing assignment. So upon her advice, I donned a button-down blue shirt a little bit too large for my frame, my thin glasses and I went up to the window to address them again. I had a print-out of my Tokyo Game Show (TGS) press credentials to prove my purpose. The Visa window agent (whom I've come to know somewhat as an increasingly nice person) took that and my passport and my half-inch of submitted papers to the consul, someone somewhere back in the building I can't confront and can't question.

She returned, placing my TGS press credentials on the counter as she looked up at me. "We are going to put a stamp in your passport saying that you have applied for a journalist visa. If you go to Tokyo, and you show them this passport with this paper," she patted her hand flat on my TGS press credentials, "then it will appear as though you have come to Japan to do the sort of business you have applied for a visa to do."
"Ah," I nodded.
"We can not say if they will let you in, maybe there will be many questions." She looked at me hard.
"Oh," I nodded again, looking down at the thin slot open between us, at the bottom of the Bullet Proof glass.
"But," she continued as she turned over my page of press credentials to reveal the blank side, "if you were going to Tokyo for a wedding or to visit some friends, maybe there might not be such a problem."

This looked and sounded like nuance to me, I tried to restrain my eagerness to retrieve my passport and continue to Tokyo. She thought my return date at Thanksgiving was too far in advance, I told her I'd come back in October. "Yes, two weeks is good," she said. I shrugged - that's details. Just let me in to the country with my lady. Please.

cheating a blank slate

"Maybe you can go to the Passport office today, to put some new pages into your passport." Gesturing at the last blank page, she observed, "you have no room for stamps and a visa here."

So off I went to secure some new pages, walking across San Francisco's South of Market, thumbing through automated menus on the San Francisco Passport agency information hotline. The security guard at the passport agency asked if I had an appointment, I said, "I just want some new pages please," and showed him my passport. He fingered a battered corner and looked where the lamination was peeling off of my photograph and said, "they won't put pages in this, you have to get a new passport."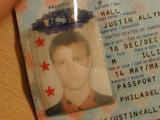 It's true, I am overdue. Ten weeks of constantly keeping my passport crammed in an ass pocket in humid Honduras left my blue booklet looking like an incompetent terrorist's hack forgery. When I went to Finland last year, after forty minutes of grilling and inspecting the immigration official wrote in my passport, with a pen, "don't let this guy back into Finland unless he has a new passport." Fortunately he wrote it in Finnish so I've been able to go to Japan and Thailand and Estonia in between without other immigration officials reading his admonition and agreeing.
But maybe getting a new passport is the solution - there will be no Japanese journalist visa used for one month and cancelled. There will be no stamp saying I've applied for a Journalist visa, unless I take my passport back to the nice lady at the Japanese Consulate. Then I can enter Japan the way the vast majority of Americans do, whether business or pleasure, they get ninety-day temporary visitor's visas at the airport. I've met businessmen who have been living in Japan for five years on these temporary visas; they just leave Japan every three months to go somewhere and re-up.
I may be leaving soon after I get there too; my application for legitimate status as a journalist in Japan is still pending, through the Consulate in San Francisco to the Ministry of Justice in Tokyo. If they approve my application (which is not at all clear - why are they taking so long?) then I will have to come back to San Francisco to pick up my new credentials.
In short it's all very complicated and unsure. Will I get a new passport between Money and Tuesday of next week before my flight Wednesday? Will I spend six hours in a holding tank in Tokyo before I'm shipped back to the States without my lover or my luggage? Will I get permission from the Japanese government to continue exploring that country and sharing the results in print and pixels?
From: Friday, 20 September -<link>
I had half a breath held at immigration but my two-day-old passport was free of incriminiating stamps or damamge and so I was permitted to enter Japan without a second glance. Adventure can be created by concern, my worry that I was bound to be kept back. So having that relieved made me nearly ecstatic, restraining a loud yell in the airport.
Some lessons:
Rules are guidelines. With patience, smiles, diligent information collection and persistence, you might prevail.
Once you prevail, you have just begun to keep up with deadlines and paperwork.
Friends in Japan can be invaluable. Cultivate some.
The Foreign Correspondents' Club can be invaluable. If you're applying for a journalist's visa, and you're a foreigner, you should at join the Club.
justin's links by justin hall: contact