Japan: Hanami

Tokyo is populated widely by Cherry Trees; they bloom once a year, in the spring. People flock to the parks for "Hanami," or flower-viewing, meaning mostly sitting under trees, picnicing, drinking sake and enjoying some nice weather with their friends.

My trip to Tokyo happened during an unusually early blooming of the Cherry Trees. Yoko, a friend of Howard's, invited me to visit her for a flower viewing party. That day it snowed and we both missed the occasion. She did bid me to view the flowers the next day, which was a bit warmer.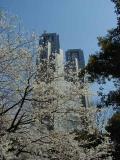 I travelled to a large park near Shinjuku station, and I was immediately struck by the number of photographers at work. Mostly middle aged men, but some women and younger people too - they all had some pretty fancy 35mm gear and the appropriate stands and lenses and vests, and they were all positioning for various good shots.
Eventually I figured out what most of them were after - something like the photo on the right; the money shot - cherry blossoms framing the massive modern architected Tokyo City Hall.
At one juncture, I saw two ladies each being photographed by at least four dudes.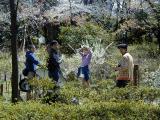 These women were posed by the flowers, and these men were taking their picture, and within arm's length of this small media spectacle, a homeless with a halffull bottle lay passed out in the grass.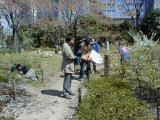 I couldn't help myself, I asked one of the photographers to insert me in the moment. The lady was all smiles, quite agreeable. She even gave me her URL: www.sattin.to.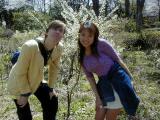 I wandered over to the grassy areas, where plenty of Tokyo folk of all ages were enjoying the sun and sake with friends. It was nice - if I was living in Tokyo, I would have definitely been gathered here on the grass drinking with friends. I could picture picture the local Oakland group that might be there with me.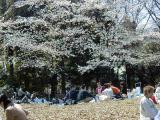 I enjoyed some cart ramen overlooking the park.

A few days later, I was walking through Shinjuku park with Sanae, and we stopped to take some pictures of ourselves.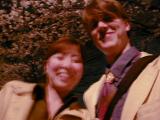 She took this picture of the trees at night: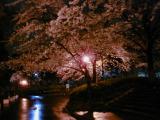 I found a nice page with some Hanami information.
justin's links by justin hall: contact