November 17, 2004
Sex Church film
I spent much of the last year researching "Sacred Sexuality," looking for an sensual spiritual place or time or community. I didn't really find anything. I found bits of things - a dark room, some books, nice folks, expensive teachers.
Now I'm in grad school, taking a film class. I had to come up with three short film ideas. I thought about the power of film to create momentary realities. I thought I might make a film about a sex church. Here's what came of that - here's the film, followed by a self-critique.
click below to watch the film: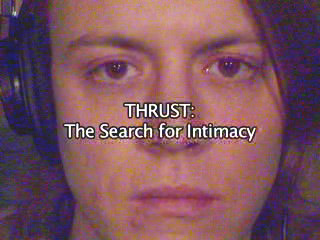 I've been researching sacred touch, sacred sexuality for about a year; when I last became single, I wanted to find a healthy way to get the nourishment and stimulation that comes from intimacy without the procedural attachments. The attachments can be a rich part of intimacy, of course, but I was curious to see if there might be explicitly celestial entanglements that could bind intimate physical relationships.
That search took me to some curious places; I kept a journal at www.links.net/sex. When I was thinking of short film ideas for this class, I thought about the power of film to make visions tangible. In his book The Red Thread: Spirituality and the Paradox of Sex, David Guy provides a number of mini-biographies of writers and artists who worked to develop alternate visions for human sexuality. They used their craft to reach towards utopian living. That's something I've done with regards to technology; I work to promote personal expression on the internet with many of the articles I've written as a freelancer. Why not take the same approach to sacred sexuality? If there's a sex church I want to join, and I can't find it, why not write it up, film it, see it realized on-screen?
Well, as it turns out, there's a good reason "why not": that being, I still don't know what that "sex church" would look like. Even after months of study, with teachers, tantrikas, meditation, rituals, books and movies. This is a self-crit about a film, not a personal spiritual exegesis, but in short, I've sampled many of the world's spiritual traditions but I've never found any conclusive truth other than "be good to people." That's a hard thing around which to build strong visual images. I couldn't figure out how to script a ritual around "be nice" where people would end up touching each other in a way I found compelling.
I interviewed folks from Northern California who had participated in different sorts of modern spiritual rituals, some sexual/sensual. They reported a mix of spiritual influences - Hindu/Tantra, Pagan/Celtic, general New Age. Drawing on that mélange of mysticism, I figured I would just find my appropriate spiritual leader actress and work out a proper ceremony with her. Los Angeles would have plenty of props for whatever we wanted to put together. I would give some measure of control of the ritual to someone with some preferences. Gather enough parishioners together, give them roles to play, objects to wield, and a few hours on a shag carpet, and I should be able to get some compelling ritual footage out of it.
Besides, I was planning to have a soundtrack of a voice over by a participant, so I didn't need to record all the sound of the shoot. Talking to Professor Gray had encouraged me to frame the film as a sort of fake documentary - create a vision by portraying the participants in this world I was imagining. The soundtrack would be interviews with participants as footage of the sensual services was mingled with b-roll from their daily lives.
Most of my ideas about the film were shots I wanted to get - moving the camera over intertwingled, prone bodies; all permutations of people kissing, hands and fingers interlaced. And break-out interviews with individuals, asking them why and how they participated. Basically, I wanted actors who would improvise this setting according to some loose rules. I felt confident of my ability to arrange appropriate moments once I had the people.
But I didn't have any core idea of how this service would work, and that made it hard to recruit participants. My casting call for a film called "Sex Church" did not get a lot of takers. Professor Suissa gave me some suggestion to emphasize intimacy more than sensuality, and I did get a terrific response to a film called "Ritual Romance". Hundreds of head shots! People saying, yes, I'd like to be your cult leader. Yes, cast me as the vulnerable, searching male lead. I struggled to imagine one of these strong-jawed men who were each straining to project confidence in their headshots sharing my words about my search for sacred sexuality. I tried to imagine asking one of these aspiring actresses to improvise a romantic ritual for twelve. And then casting the extras! Please be prepared to lay around wordless for hours using feathers to explore divine touch. Yeesh.
Casting was daunting. Frankly, I lost my nerve. I was trying to do something too unusual in too short a time. I thought I might look for porn actors who were comfortable with nudity, if not with intimacy. Instead, a volunteer leader offered herself up off of Craig's List; and it seemed to be the perfect solution.
Widow Centauri: a supremely-confident-sounding dominatrix-turned-comedian, and sex educator, she stepped right into the role of the group leader. She said yes to every question I asked her, she was eager to help plan, she had friends who would show up, she had few boundaries about nudity or sexuality. I felt so immediately relaxed, I went about writing my script for all the voiceovers, how the characters might respond to a ritual I expected her to concoct. I was able to write out all the thought-processes the characters might have had that would lead them into this sacred sex session, I just couldn't imagine the session itself.
The night before, I had a feeling I wasn't going to find the lead actor I needed in whatever motley crew emerged from Widow's rolodex. I filmed myself talking about my hopes and aspirations for the shoot. I had become almost completely fixated on Peter Greenaway's stunning film The Pillow Book, about a calligrapher-lover who finds text on skin to be the height of sensuality. His movie layers images and text, picture in picture, varying opacities and image foreshadowing to create a deeply sensual series of moving pictures. While I had no idea what a sex church service might look like, I knew exactly what the film about that sex church service would look like - it would look like The Pillow Book.
The next day, our enthusiasm didn't quite pan out. About three of her six committed participants cancelled within 12 hours of the shoot. I had no back up performers scheduled. We were left with a total of three actors; Widow, her fortunately agreeable and helpful friend Sallie, and a talkative older gentleman Michael whose belly had served as the model for the cave troll in the first Harry Potter movie. He was pleased to show us his pocket full of generic Viagra he'd brought for the ritual.
Fighting desperation and eye-widening misery, I cast myself as the "lead" and had two cameras running as we four worked to create something that could be filmed for footage to create the images I envisioned building in the editing room.
Widow's vision for a ritual was more about the Bondage and Domination, Sadism and Masochism that she was familiar with professionally as a dominatrix, and less about graven images, chanting, waving burning bundles of sage and reading poems, the spiritual soup I was half-expecting. Instead of anything New Age, I was covered head to toe in lube, and zipped into a latex bodybag by two relative strangers. Immobile, unable to speak, breathing through a tube, I had a powerful sensual experience that was the opposite of the sex church I had been vaguely imagining for all these months. I spent ninety minutes in the dark, alone, unable to feel directly or smell the people that were touching me. I was in isolation, being manipulated and treated to an altered state. Maybe I was being punished for my sins. More likely, I was being shown that I could have an intense sacred-ish sexual experience on demand with no planning, but if I wanted something more specific, well I had better be able to put that in my Craig's List posting.
So, now I've created Ed Wood's The Pillow Book. Uneven, improvised, inappropriate, insane. And yet, to my taste, still somehow sensual and at times even sacred. I'm honored that the people who showed up were willing to play along with this scheme. I was touched by Widow's optimism, and frankly blown away by the bodybag experience. And I had a queasy blast making this thing.
SYNOPSIS: (What we see)
A filmmaker's voiceover describes his hopes for shooting a film the next day as the actual events that transpired are edited in a series of layers to undercut and reinforce his message: he doesn't know what he's doing but mostly he likes it.
STRENGTHS:



Unusual visual effects - certainly better than watching just the talking head of the voice over! The window panes, seeing only the eyes or the mouth, plays some with intimacy, making intimacy and connection attractive but elusive.

Unscripted raw performances.

The inclusion of the filmmaker - it makes the piece honest, almost meta-media at moments. A movie about making a movie: how film school!

I hope it's not too long - I worked hard to trim off about three minutes from this thing after I had a rough cut. I was already begging indulgence with the inclusion of myself in the action, and with the subject matter; I didn't feel comfortable taking too much time from my peers with an overlong film.

WEAKNESSES:


Unusual visual effects - it's not clear that they always serve the story. Why am I watching this guy's mouth move?

What is the story? The filmmaker's search for sacred sexuality? Yowza. Character, and plot, and motivation are fleeting here, and so connection between the viewer and the action on-screen is hard fought. Perhaps all we're left with is shock.

Unscripted raw performances. Were these people acting? What just happened on screen? Was there any script? Obviously not. Meandering!

The inclusion of the filmmaker - was that a cop out? Because it was a weird idea and no one else would play along? Because he couldn't find a better concept to hang his hat on, he just ranted about his perverse predilections and then included unusual footage from a low budget sex party? Ahem.

WHAT I WANT TO LEARN TO DO BETTER IS:


Most of the time, I don't have a problem with confidence. I tend to do things I believe in, or at least fully participate expecting that there will be some worthwhile results. But here I lost my nerve a bit. I didn't fully commit to this idea in a way that I could recruit the people I needed to help me. It was a difficult challenge - taking on physical intimacy between strangers; asking that from actors. Perhaps as difficult as the concept of a sex church itself.

I want to learn to write scripts or treatments that explore my more philosophical ideas in more personable detail. Less abstract, more character. I think this film resembles an entry I would write for my web site - exploring some personally important phenomena with layers of meaning and media. If I look at the piece as a sort of a web page, I can be happy with it. It's a personal document. But if I look at this film as an attempt to frame a vision for sacred sexuality, it doesn't quite live up to my ideal. Perhaps my ideal is silly, and that's the lesson I should take away. I think there's some portion of the sacred sexuality puzzle that can be worked out in film; perhaps I need to learn to be more honest with myself about the pieces I do understand, and the pieces I don't understand. Watching a meta-media film like Adaptation, I realize that many brilliant film writers are explicit about their struggles. Talking about my process comes naturally to me - crafting a story about someone other than me is a greater challenge. I would like to learn to use actors to tell a story that's not so directly my story; in order to do that I may have to use Meta-Media techniques to understand what I can describe and what I can't. So maybe it's a film about a guy searching for sacred sexuality - he doesn't have to be me. And maybe he doesn't find what he thinks he wants, but he finds some nice, odd people and some pretty pictures along the way.

Posted by Justin at November 17, 2004 03:37 AM | TrackBack