Mizu Shobai - Trading Water at the FCCJ
1 April 2002
by Justin Hall

A glimpse inside Japan's Underground Economy and Ginza's exclusive hostess clubs hosted in Tokyo at the Foreign Correspondents' Club of Japan. A shorter version of this article appeared in the April issue of the Club's newsletter, the Number 1 Shimbun.

Ending an unfortunately long dry spell, the FCCJ recently played host to a discussion of Japan's mizu shobai, or "water trade" with a pair of speakers: Economist Takashi Kadokura, author of the highly recommended "White Paper on Japan's Underground Economy" and Rie Hara, an actual Mama from one of the Ginza's most exclusive hostess clubs. The media room was full to overflowing; waiting in line for the pasta with seaweed to be replenished, mizu shobai veteran Mark Schrieber remarked, "So many people must be here because it's cheaper than meeting the mama at her bar."

The underground economy, according to Kadokura-san, is comprised primarily of tax evasion, along with prostitution, drugs and gambling. When the bubble burst, the government created a series of tax cuts, so there was less incentive to evade taxes and the underground economy declined along with the Japanese economy at large.

In spite of the economic decline, the illegal revenues of the Yakuza have been growing in the late 1990s. Historically the Yakuza were primarily involved in protection money, racketeering and gambling. But in 1992 laws were introduced that regulated those crimes. Thereafter the Yakuza have moved into the drug trade. A flood of cheap stimulants, smuggled in from China, have driven the prices down to where methamphetamines can be afforded by junior high school students, reported Kadokura-san to some audience consternation. Drugs have boosted Yakuza revenues up past the money they made the old fashioned way, with arm-twisting.

Someone asked the obvious question; how does he collect data on illegal, unreported businesses? He said he spends time combing listings in sex industry magazines. Then he calls sex industry businesses to ask about wait time, and estimates turnover from that. In addition, the police keep track of the number of these sorts of businesses. Through an ongoing record of these numbers he builds a rough estimate of health of that industry.

To prepare somewhat for our next speaker, he shifted to talk about Japan's sex industry. Traditional brick-and-mortar sex businesses, "House Prostitutes" or "Soaplands," are declining in terms of sales. He blamed high per-unit pricing, around 60,000 yen per visit. "Fashion Massage," created in the latter part of 1980s is priced much more cheaply, perhaps around 10,000 yen per session. Fashion Massage has grown from 22% to 33% of the sex industry between 1990 and 2000, increasing the market for illegal prostitution services. Hostess clubs were not illegal, he was careful to note, and hence not part of the underground economy. Still he shared a theory as to why these clubs endure, even in hard times. Since the bursting of the bubble, there has been a consistent reduction in entertainment accounts of major businesses. Expensive, exclusive clubs persist and thrive since, he offers, earned income disparity in Japan has steadily risen since 1970 (currently estimated around 75% of America's earned income disparity).

According to Kadokura-san, in the underground economy, market growth is coming either from the very high end or very low end of the underground economy. If you are neither very exclusive nor very cheap, you will likely perish.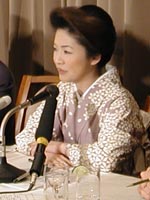 Rie Hara certainly doesn't have to worry about being exclusive. She was presented as the "mama" at one of Ginza's most exclusive hostess bars, charged with keeping the girls coming in to work, and the customers coming in to drink. Emcee Jonathan Watts from the Guardian UK observed that a club's Mama is the equivalent of the personnel manager and marketing manager at any corporation.
Accordingly to Hara, her club is at the center of a rich tradition of stylish masculinity. There's nothing tangible in what they provide, except a place of relaxation and comfort to people who run this country's large organizations. And she was quick to note, these clubs explicitly do not provide sex; those who think otherwise are "persona non grata." These clubs trade in the traditional stylishness of Japan - "iki." For businessmen, bankers, politicians these clubs are places for social debut.
Jessica Smith from Marketplace pressed this point - what more could be described of this intangible business? Hara responded by speaking more about the immense, historic prestige of the Ginza. Clubs in Ginza are a place for people who achieve success to show off their wealth and announce that success. These are people who want to achieve status in Ginza, and so money is not an object for them. They are not ordinary celebrities, like household names; they care only to be famous in clubs of Ginza. That's why people are willing to pay one or even several million yen per night. Ginza is supported by these people, who are trying to achieve the name recognition and status of being recognized in Ginza.
This recognition she describes comes at a high price. For the first-timer coming alone, the lowest price might start around 80,000 yen. But that's only the beginning, she observed, "The room for price increase is almost infinite" with more expensive liquors and snacks as well as charges tacked on by hungry hostesses. After the initial bottle purchase, you can spend an evening there for a minimum around 40,000 yen, drinking from your bottle they've stored for you.
All this is short walking distance from the FCCJ, so it was natural some of the membership here would be curious about visiting her at work. It is very seldom that foreigners would come on their own to a club like ours, she remarked carefully, occasionally as guests of Japanese. Probably foreigners would find it difficult to understand the intangible quality of services provided; one time a foreigner paid for an evening and he thought he was paying to take back that girl who served him in the club.
It's probably smart she doesn't encourage journalists to visit; Deanna Horton from AFP asked if the economic conditions in Japan have affected her customers' conversations: "What are your customers complaining about? Downsizing, competition from Chinese?" Hara-san was a perfect practitioner of mizu shobai, respecting hostess-salaryman priviledge. "There are some businessmen who talk about economic subjects," but she was not at liberty to say anything.
Justin Hall is a freelance journalist covering culture and technology, living in Tokyo between Capsule and Love Hotels. His work appears on the web at http://www.links.net/.
FCCJ | Gaijin | Japan | trip | life
justin's links by justin hall: contact