March 21, 2004
Book: Tantrika
I tend to wear my interests front and center, like a loud T-shirt. What are you studying? people asked me this month, and I would reply with a short speech about sacred sexuality.
My friend Lulu was with me for much of this, as I was visiting her in Austin. She tilted her head after one of my speeches, and remarked: sacred sexuality is about life-giving forces. You're studying the spirituality of life-making! And that's a very big question.
It hit me hard - the play I may have envisioned, the casual sharing, the experiments in intimacy I might have craved were tiny compared to the enormity of being a father. Her words resonated strong - there were some longings for fatherhood mixed up in all of my curiosities. All of a sudden what was a casual inquiry after touching with intent was suffused with the mystery of all human creation. It was a staggering moment, a call to maturity. Understanding the context for sexuality - play and the perfect opposite of play, unswerving commitment. Profound mystery and fear.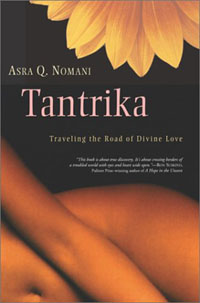 Later Lulu loaned me a book: Tantrika she hadn't yet read. Promising a tale of "Traveling the Road of Divine Love" the book seemed a perfect follow-up to my last sacred sexuality reading, another tale by a curious wanderer, The Red Thread.
The author, Asra Q. Nomani, has a unique position - Muslim, born in India, raised in the United States. Working for the Wall Street Journal. She begins the book as she's taking up the assignment that established tantra as a phenomenon, and a business - a feature story for the Wall Street Journal. I read as she flitted through the same sorts of meetings and workshops I'm reading about. I admired her bravery, while I doubted or shrugged as she turned away from a
That characterizes the book - the search is so frenetic, so constant, that she'll take us through two towns with fifteen details in one page. Her travels through ashrams and temples in India and Pakistan are loaded with poignant moments and important lessons - she spends a paragraph on what would be a book for most people.
Having only a hint, a neat phrase to describe the insights of a four day meditation with the Dalai Lama, we are forced to follow her on her entire journey. About two thirds through the book, as she was traipsing through another East Asian nation in search of self and meaning in the context of meditation and sexuality, I was frustrated. Why was I reading all these tiny sentiments about personal experiences? There wasn't much tangible reflection for me to hold on to, few sustained insights for me to turn over or savor in my mind.
But as I kept reading, the end of the book opened up into geopolitics after 9/11. And I was won over by the sheer personality of someone willing to share, willing to throw herself into the breach to find herself in the contexts of conservative culture and shifting circumstances. She begins seeking sensuality and partnership, and comes away with a dense load of personal meditations on the eternal mysteries.
Her personal urge to quest, and share, I find compelling. I thought, this woman has written a book that involves her family and friends and relative strangers. Much like sharing your life online. She does have a web page; it reads as a formal author's pulpit rather than a continuation of the kind of sharing she does in the book. There's an urgency in her tone, and as I finished the book I wondered what more has become of her (An interview with Beliefnet doesn't have any additional details). This work holds all her difficult struggle within a neat and traceable arc.
So much of Nomani's work comes back to family. She begins mostly alone, working to find partnership, marriage, happiness. She ends with a child and a home with her family. She considers sacred sexualty all throughout, and she comes to much the same conclusion that Lulu intimated - the mysteries of sex magic are the mysteries of creation. Making life - a most stirring, unsettling and compelling human act. By the time she's reached her conclusion, with a small body at her breast, her time spent with gurus and sadhus, intimacy workshops and dating dalliances has given her a strong love of self and some measure of calm. That's mighty appreciable.

Posted by Justin at March 21, 2004 10:52 AM | TrackBack