March 16, 2004
Online Dating Panel at SXSW
"Getting It On(Line): Report From the Internet Dating Trenches"
16 March 2004, South by Southwest, Austin, Texas
Meeting people over the Internet has gone from being the domain of scaly computer geeks seated in front of their computers to a genuine cultural phenomenon -- at this point, everybody seems to have found somebody online, whether for a night or a lifetime, or knows someone was has. What implications does this new form of hooking up have for the future of life, love, and the relationships that bind us all together? Panel members who live and work in the online dating world will share their thoughts and observations about its present and future -- and hopefully a couple of hilarious stories, too.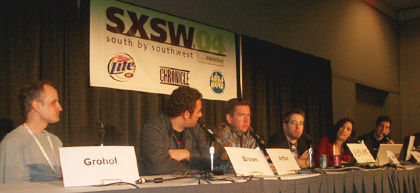 (left to right)
John Grohol - PsychCentral.com (met his wife in online personals, and he's proud)
Ben Brown - Publisher - So New Media
Lance Arthur - Creative Dir - Quris
Jonathan Abrams - Founder & CEO - Friendster
Courtney Johnson - Dir of Research - Tickle
Lane Becker - Partner - Adaptive Path
Ben started personals.uber.nu, a punk personals site (limited to 18-29, purposefully). Ben is typically blunt, controversial. "If you're over 38 you shouldn't be dating online." On his site, you mark what you don't want, not what you want. So instead of "I like this music" you mark "I don't like that music" because it's more important what annoys you, most other stuff you don't mind.
I ask a question about the expanded sense of potential - people can shop for soul mates online, always wondering, is there someone better for me? Upgrading personal relationships seems possible and available in a way it hasn't before the internet. Some of that possibility is for specific interactions - I want a anonymous NSA hookup within five miles of here in two hours. Some of that is lingering wondering - being in a relationship and going online, thinking: "can I find someone who doesn't have these problems my partner has?"
Ben notes that people can mark how desparate they are on his Uber dating site. Is desparation attractive? Jonathan asks. Ben points out that desparation is attractive to other desparate people. He forsees a site where you can post your desparation level, and if other factors match up, one person is emailed directions.
Lance: there are many gay sites, people getting very specific and moment by moment. I'm at a hotel, downtown, with a half an hour. Getting your needs met in very specific ways: are gay men on the cutting edge, or are we just horny? Brad: it's a fine line. Lance: the problem with extensive online wish fulfillment: it does get really lonely and empty, it's akin to masturbating with somebody else.
Courtney: are relationships about finding someone who is the best for you, or someone who is good enough? Maybe options cause suffering. And as online dating grows, those options will expand.
Jonathan: sites like Friendster, people join just because their friends invite them. And maybe they didn't intend to be a part of the dating pool on the internet, but now they are. He recommends a book on the topic: Paradox of Choice.
How to have personal testimonials and recommendations? People broker their own testimonials on most sites. Lance: GreatBoyfriends.com - women recommend men to each other. But in general, panelists agree, situations and relationships between people are often too specific to be easily described for other people.
What about building in therapy, counseling? Courtney suggests a dating site could watch the people you chat with and date, asks about your reactions and experiences, and then suggests patterns and problems in your behavior. "You keep dating people who are too busy" for example
Brad: a user of dating, matchmaking, instant sex sites - working 10, 14 hour days, so he doesn't have the ability to maximally socialize. Can do first round of speed-dating at 3am, without having to shower, moisturize and prepare to go out.
Molly: living in a town of 25,000 in a foreign country, you learn who you might want to meet up with as a result of watching people's iTunes playlists.
Lane: to sum up this panel and the conference: people are screwed up, the internet makes everything worse, and someday technology will make everything better. (laughter)
Posted by Justin at March 16, 2004 02:20 PM | TrackBack