Sunday, 18 January -
link
painting potential of my bachelorhood
Sunday afternoon is the one time in the week when you are least likely to be interrupted. Today I resolved that no matter what, I wanted to paint. There were plenty of other tasks looming - cleaning house, sorting files, writing articles. But painting is forever. Certainly looking at the few paintings I have hanging on my walls give me some immense pleasure, and remind me of sides of myself beyond another click through BoingBoing and blogs, no matter how fabulous their links.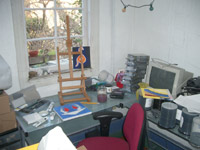 So I entered Jane's old office, Amy's old studio, Austin's old bedroom, what used to be the garage. I have been storing old computers and hardware that I want to give away there (example: 1, 2, 3). I swept my arm across the desk in there and cleared a space in front of the window. I set up a small easel and my acrylic paints and brushes. A blank canvas before me, it didn't take long to find pencil and pigment flying.
A few minutes went by in scratching and silence. Then I dug out a twenty year old Sony portable CD player, an AC adapter from a iffy cordless phone, an old pair of computer speakers, and piped in some Grateful Dead laying nearby. I fixed a pot of tea. I lit some old Nepalese incense. I hung some of my old paintings on the wall.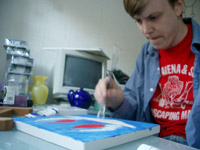 I crouched there dabbing and stroking away, chasing each ray of the dwindling day. It was blissful messy fun.
Since I met Howard and started hanging out with him, we've had regular sessions practicing art in his backyard. Practicing art as an adult is important to me - exercising the less organized, non-professional parts of my imagination. Practicing art alone in my home today made me feel like I was embracing the best potential of my bachelorhood.
Posted on 18 January 2004 : 20:53 (TrackBack)
Read Comments
February 2005 - comments are closed on Links.net. Thanks.