Wednesday, 21 January -
link
art supplied by ithiel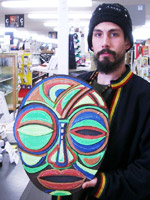 After painting Sunday I stopped by the art supply store yesterday for more canvases. Amsterdam Art on University in Berkeley has the most entertaining vibe of all the local art stores - half of the shelves are typically empty, and they have strange things deeply discounted (the cigar pen?). But the whole store speaks artmaking and the employees are practicing artists. It's an inspiring place.
Yesterday I sighted a urban cool African-style mask hanging on the broad white wall behind the register. The artist Ithiel Amrham was on hand, working a retail shift. I chatted him up about his layers of foamcore painted with graffiti inflections, topped with texturing glue. I ended up buying this mask pictured above from him, to hang in my house. Poor man I, patron of the arts.
Posted on 21 January 2004 : 09:18 (TrackBack)
Read Comments
February 2005 - comments are closed on Links.net. Thanks.