Friday, 12 December -
link
Sister's Eye
Wednesday night nightclub dance shimmy drink no food down and dirty with the high and flighty. Thursday night landed Aikido class and board games in honor of Oasis. Watching two long-haired game developers arguing rulesets for New England, I let out a breath and rememered shaking my shoulders with a rather sharp morena at Attica hours before my flight from night life in London to day light in Oakland.
Staggering home to my airplane, I shared a moment with this drunken mannequin: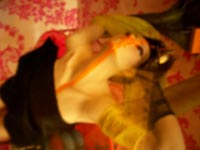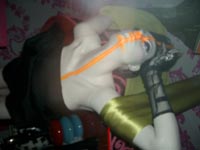 Looks like I missed Wilson's birthday - SAMELabs collaborative 2 minute fashion .WAV voicemail - 489k. (working the "chester")
Austin is moving out. My sister Chris announces that she's going to pull a sister eye - coming in with a cleaning crew and a dump truck Monday. She gave me this list to prepare:
You need to have on hand:

1. bags for Good Will items such as clothing, paper grocery bags will do
2. Pad of paper and pen to make list of items to be donated
3. Large box of green trash bags (the kind with the draw strings)
4. post-its in case we need to mark anything as give away, throw away, etc.
5. bottled water and diet coke
So I have this weekend to help my roommate move out, and hide my most valuable momentos.
I have a few goals, one of which is to write a personal rap, a way to introduce myself. I figure that repeated listening to "The Mystery of Chessboxin'" is a good way to prime myself. Someday someone will ask politely after my hobbies or work and I'll reply with a torrent of wilson-worthy rhythmic, rhyming verbiage.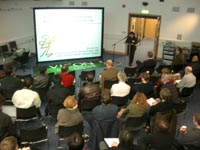 In the United Kingdom, between meeting Pete at Mimi's Brunel lecture, I told people I've been busy writing poems and drawing pictures. And it's true. Next week I'm going camping - no electric data fantastic, just another person and the Joshua Tree desert. Harvey asked, with Jane? No, not Jane, Wayne.
(Photo above from "Personal, Portable, Pedestrian: Mobile Phones in Japanese Life" - a survey of Ito's ethnographic research on the social structures surrounding mobile phones)

Posted on 12 December 2003 : 17:31 (TrackBack)
Read Comments
February 2005 - comments are closed on Links.net. Thanks.