Saturday, 11 September -
link
measure of my days
Some days I measure in boxes. It's a real accomplishment when I compact my life still further - emptying, sorting, tossing, giving away or maybe putting away old possessions. Of which there are still too many, but after yesterday, there are three less.
My school schedule is falling into place - intensity rules from Monday and tapers off by Thursday. What seems like impossible odds Wednesday has faded to a manageable life in repose during a full day on Friday.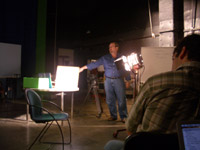 My class time is roughly split between "film" and "interactive" - in the film classes I've been learning about shot composition, lighting techniques, directing actors. In this picture to the right, Professor Gray prepares to demonstrate flattering fill lighting on a small doll he borrowed from his child and named Jessica. Gaffering, directing, it's probably not what I'll end up doing with my life directly, except as I record experiences. I'll have a more professional hand on my camera perhaps! At least a more knowledgeable eye for media-craft. I like seeing behind the curtain!
As for interactive, I've got a prototype game mechanic to build in Flash this weekend, based on a passage from Alice Goodman's Nixon in China libretto. And always some maintenance and evolution of the Interactive group weblog. I have my own page there where I'll be posting other notes and observations. Multiple Web Page Disorder.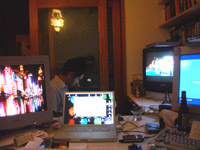 Aaron from my program is staying at my house for most of this month - that's been fun. We share many of the same cultural literacies (baby sna-akes). He is seven years younger than me, and whether it's that or something else, he's decided I have a few gaping holes in my popcultural experience. Meanwhile, I forced him to watch Galaxy Quest, a movie I consider to be on-par with Zoolander. He disagrees. Here you can see the kind of attention he gave the film - his head appears between my three monitors, and the TV - he's looking at his laptop instead of the Thermians.
So life is full, and I can pick my head up to see that - the boxes and continuing construction have me feeling like I'm working towards something - that point when I walk through my house towards a seat and sit down and do something. Instead of walking through my house and seeing a long list of to-dos. Briefly: California Closets installed shelves, drawers and bars so my clothes came off the floor and out of suitcases this week. Hurrah! What a feeling! I'm going to experiment with hanging most of my garments.
And the carpentry-accident gash has been healed enough now that work continues on the word furniture - a bedframe and bench seating for the garden. I should be sanding and finishing this Saturday and Sunday.
The fridge died this last week, or maybe ten days ago - we noticed that the frozen juice in the freezer was liquid and Aaron found his cereal milk had gone bad. The fridge, maybe 20 years old? it cools intermittently - good enough for beer maybe, but not for dairy products. So yesterday I devoted half my day of repose to appliance hunting. Mission accomplished! in the Bushian sense - I should have my fridge in a few days delivered.
Still no blinds on the windows. Lots of light, and no privacy. New blinds should be coming in, in a few weeks. That will be a nice change! I ordered them all to be bottom-up blinds, because mostly, in houses, I find I want to block out the sidewalk and not the sky.
Anyhow, heck I could detail indefinitely the small tasks remaining but I've got homework to catch up on, before brunch with a beauty! I will leave here a picture of family visiting my home, my sister and her husband and their kids: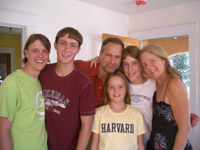 They're standing in front of a large wall space I've asked Cassidy to paint a large canvas to fill.
Posted on 11 September 2004 : 09:30 (TrackBack)
Read Comments
February 2005 - comments are closed on Links.net. Thanks.