exhausted, unsure, rich with experience
It was quite a weekend - I'm just catching up. I arrived home from a blind sex party at 2.40am, rearranged a few slides on global mobile technoculture, and woke up for a 9am panel for the Industrial Design Society of America's Western District Conference. I did decide to shower between the events.
The IDSA gathering was composed by Steve Portigal, addressing cultural differences and ethics in technology design. Before things got rolling we were sitting up there in silence for a few moments; I grabbed my mic and rapped out a few lines from Masta Killa's performance in Da Mystery of Chessboxin'. A friend of fellow-panelist Katrina Galway snapped a photo: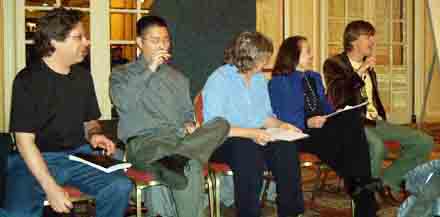 I'm happily reppin' a SAME shirt
Galway and
Pam Van Orden
talked about ethics in design - that industrial designers are at the root responsible for so much of ecological impact of consumer goods. If they can design products to use commonplace, recycled materials, to be built without exploitative labor, it's possible that industrial designers can make a better world.
The panel's purview was quite broad - we didn't have time to dig into the morality in product marketing and specific case studies. But I was fascinated, glad to be a part of a discussion that included ethics. Mostly I had prepared a tour of mobile technology, I didn't speak much to the ethics involved. Except to say that these mobile technologies are changing the way groups interact and the way media is distributed, and so I encouraged the people in the audience to participate, to ensure the mobile internet remains a one-to-one medium, and to ensure that the mobile internet becomes a viable place for personal publishing.
There are more nuanced ethics, to be sure, which can be cast in high relief by comparing cultural contexts for mobile devices. Unfortunately, I'm seldom in conference situations where there's a sustained discussion of mobile mores. Some day. My participation was briefly written up by Bruce Sterling on his Wired blog.
Then I came home and wrote up my CV, to possibly push myself into a new life Realizing that I may soon be uprooting my life, where I live in Oakland, and moving to Los Angeles to go to grad school, added some rich ambient tension, made the pleasures of San Francisco and Oakland seem deliciously fleeting. And it cast a bright warm light on my life as a wandering freelancer: making that life glow with appeal enough to make me reconsider my pending committment.
This weekend I was building some large scales in my head, weighing between life choices. Hah! Heavy scales, silly boy. This weekend's activities and pace were a blowout, brain clearing air rush exhilaration - crawling around in darkness to augment my senses and reaching into my future to clear my path. All silliness! I began the week exhausted, unsure, rich with experience.
Posted on 8 April 2004 : 14:54 (TrackBack)
Read Comments
February 2005 - comments are closed on Links.net. Thanks.