what free time does to a person
This month I did intensive research into Nintendo's wireless strategy; some glimpse of that is available here: the Moment for Mini-Games (TheFeature.com). And more mobile phone journaling for that site as well. On Game Girl Advance, I wrote about video game culture and social networks. On Chanpon, I wrote about super-nostalgic train tones.
For the January issue of Infineon magazine ("the culture of technology") I contributed "Tokyo Underground" a piece about the trains and subways of Tokyo (based loosely on this). Souris said "We Love Your Meat." Anil recounted our time together, saying we understood boundaries (a pleasant phrasing).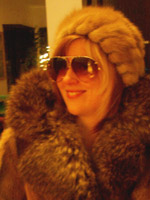 Next week, three panels at SXSW, an interactive media conference in Austin Texas: Monday 15 March: Blogging Next (where is web publishing headed?), Mobile, Massively Multiuser Gaming (when will we have mobile multiplayer gaming, and what will that mean?), and Tuesday: Play to Learn, which I put together (how does playing video games affect creative work?).
And Robin poses above, smiling with big style vintage fur trim soon to be recycled and sunglasses indoors. It's her birthday Monday!
After SXSW, the Indie Game Jam in Oakland, then the Game Developer's Conference in San Jose. A wedding that weekend on a small island in Georgia. And then I have no more airplane trips planned for the rest of 2004. Probably some might arise. But I'm contemplating all April and May and the summer with only driving to do if I want to travel. Ain't gonna be sick no more, at least from what I get on planes. No big projects either - some writing, some helping friends, but otherwise, wondering what free time does to a person.
What happens when I stays home, in one place? Ben said "Sounds like you're gonna have a 'Come to Justin' meeting." And so I am.
Posted on 9 March 2004 : 13:54 (TrackBack)
Read Comments
February 2005 - comments are closed on Links.net. Thanks.