Northern California Weekend
I flew back from London gray cold fog Monday. The next day was Oakland sunshine. It took me until Saturday to realize and exclaim - I live in California! Blessed with sunshine, fresh food and the people who make their way here. I feel lucky to have this area as my home.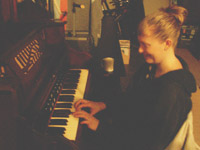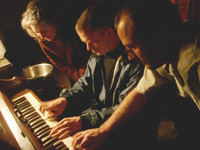 Bevin demonstrates the pump organ she and Jay took delivery of recently. It's like a musical stairmaster - only by steadily kneading the device with your feet can you get any tones to come out. She was pretty elegant with her pumping and playing; I sat down and felt like I was running a race. Probably trying too hard!

Then Martin sat down, and with Jay pulling out the stops, he played at some length some mix of music that could have come from a organ but only after the emergence of ambient. Annick over his shoulder, admiring the giant old wood machine and the music it made. Listen for yourself: singalong (123 kb .wav file).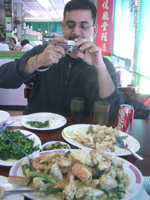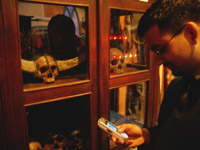 Anil was visiting San Francisco. We met at his hotel and made our way to China town for lunch. Shortly we passed a large group of people dressed as dogs or nuns, soldiers or brides, or naked, pushing shopping carts and running through the streets - the Urban Iditarod. I love San Francisco.

Anil and I had both been to, and admired, House of Nanking. I asked Alan for a good alternate recommendation. He advised us to eat at Yuet Lee - excellent seafood. Here, Anil photographs the fried squid, the garlic ginger crab, and the pea sprouts in garlic sauce. The fried squid grew on us, the pea sprouts were great but seemed more like spinach, and the crab was tasty but testy. Anil was shocked at how difficult and slow eating crab was. I think crab is my current favorite sin food.

Then we strolled about Chinatown and North Beach, ending up near the excellent bizarre colonial Dreaming Room, just down the street from City Lights, next door to Vesuvio. The Dreaming Room has a mix of ethnic and religious totems from nearly all continents and eras, including Lois Anderson's Altar (which is soon moving to the Oakland Museum). I love the place because they have things that look like they just don't belong in this dimension - items that were supposed to have been hurled into the volcano to keep the human race from being consumed by demonic fires.

Here, Anil prepares his camera phone to snap a shot of a human skull with horns lashed to it using leather thongs. He later snapped a photo of me sitting in Union Square. Note to self: improve posture.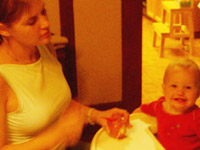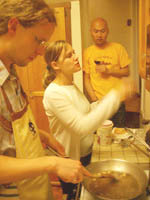 Ten month old Clementine smiles at the photographer, a wide, increasingly toothy grin. All the screams and snot are worth it in those moments. Mother Jen looks on benevolently.

Chris reduces vermouth in a pan coated in pork chop, with garlic and butter. Chris makes an excellent saucier. Jen reaches for something in the cabinet; wearing a Tokion t-shirt, Alan looks on, preparing his vast appetite.
Posted on 7 March 2004 : 08:44 (TrackBack)
Read Comments
February 2005 - comments are closed on Links.net. Thanks.