Personal Filing: Annalee Newitz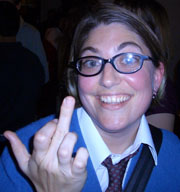 Often when I get excited about an idea, and I start to research it, I discover that Annalee Newitz has already written a definitive screed, rich with underworld travel tales and undeniable political sway. Knowing her as someone who writes across a wide range of subjects, I was curious to see how she managed her data.
Her web site Techsploitation shares her writings between sex, science and technology. Here, she shares her Personal Filing system:
Many of my documents live in extremely disorganized and dusty boxes in my closet and basement. I have journals and photo albums dating back to elementary school, as well as hundreds of clips from the days when I was writing for newspapers and magazines that didn't archive on the Web. The boxes have no regular identification system: one says "grad school stuff," another, "writing 1994-95," another, "memories junior high."

How do I organize my data now? Mostly it's on my Web site, in reverse-chronological order, organized first by publication and then by date. I like how Clay Shirky organizes his site by topic, though, which I think is very elegant.

I update my site about every three months, which drives everybody insane. I routinely get emails from people asking if I've quit writing my weekly column Techsploitation because they don't see any from the last three months on my Web site. So I added a helpful line saying that if visitors want to see my LATEST column, they should go to one of papers that publishes it, or find it on Alternet.org.

I also engage in a lot of culling. I don't post links to everything I write -- only the stuff I like.

Luckily, I never take pictures of anything -- least of all myself -- that I want people to see on the Web. I managed to spend an entire year in Boston and took only one memory card's worth of photos, none of which I've even bothered to upload into my 'puter. Did that just totally freak you out and cause you to twitch your camera fingers? Mwah mwah mwah.

On each of my computers, I have two directories: one is called "books" the other is called "writing." Books is organized by book, and broken down into subfolders for each chapter. Notes for each chapter go in said file. Writing is organized by publication and misc. Notes for a given article assigned by Wired go into the Wired folder. I might devote a subfolder to a particularly long or torturously-researched article.

How do I deal with all this distributed junk across three computers? I also print all my notes out and put them into manila folders labelled with the title or subject of the article. I have to be able to physically handle and throw around the notes or I can't use them. Just can't.

My column has one folder, called "tech." I also have folders for misc. interesing articles on things, labelled by area of interest, like: DRM, censorship, privacy, pornography, etc.

My physical filing system is in a heavy metal file cabinet that needs to be replaced. But it has so many great stickers on it that I hesitate to discard it completely.
Posted on 5 January 2004 : 17:46 (TrackBack)
Read Comments
February 2005 - comments are closed on Links.net. Thanks.