alone, sort of
Besides floundering on my filing scheme, I had a great day. I spent a good part of the afternoon cartooning - drawing pictures. What fun is this! I can't believe I wasted my youth writing.
I feel very lucky to have a quiet day at home. Not too many phone calls. Only availed myself of one door-to-door salesperson - gave them a tour of my home and discussed the neighborhood at length with them. Otherwise, it was just me, and the wordless web.
For dinner, five day old spinch soup cooked from the bones of three chickens dead more than ten days. Poured over stale toast. A savory feast.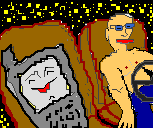 It feels like quiet before noise - travel pending, in two days, means this relaxing masks preparation. Tomorrow I wake up at 5.30am to get an early slot at the car repair place. One last Aikido, visit Howard. Wednesday morning, see where I stand with my accountant in Oakland and drive to Las Vegas.
I'll be driving nine hours alone (sort of), unless anyone needs a ride.
Posted on 5 January 2004 : 21:21 (TrackBack)
Read Comments
February 2005 - comments are closed on Links.net. Thanks.