Tuesday, 16 December -
link
to be sung to
I sorted my books, I worked on the computer, I napped and dreamt. I took a few phone calls.
I went to my Aikido class, there were dozens of people on the floor. I'd never seen so many white-suited hand wavers. And yet we all continued our work, throwing and hurling each other around gently, without accident or large collision. It was a miracle of blending.
At the end of the session, we sit in a circle and exchange a few words and sentences. In the large group, most were silent or terse. I announced that it was my birthday and I had a poem to share:

Natural, reckless, correct skill;
Yesterday's clarity is today's stupidity
The universe has dark and light, entrust oneself to change
One time, shade the eyes and gaze afar at the road of heaven.
(From Ikkyu)
It's been the leading verse in my life for over a year now; especially the middle two lines. Now I'm working on understanding the first and last lines.

My teacher Tom announced at the end of class that anyone who tells the class its their birthday deserves to be sung to. So expecting a night of disciplined practice and relative celebration deprivation, I was instead treated to a sitting circle of twenty five kneeling martial artists singing me 29th year salutations. I must have blushed, I definitely bowed.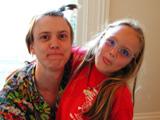 I then spoke to my nine year old neice and most recent hair sculptor Cassidy. She asked after my plans for the evening; I announced I would be dining alone with reading material. "Oh no!" she cried, "That's terrible! You can't eat alone."
"But," I countered, steering back into my lane, "I'm one of my favorite people to hang out with!"
Posted on 16 December 2003 : 23:08 (TrackBack)
Read Comments
February 2005 - comments are closed on Links.net. Thanks.