Friday, 24 October -
link
Computer News
Inspired in part by Matt's web work, a new design up here. Extended rantings flanked by informational columns! Let me know if this web design looks bad in your browser! If you can even read this text. hmmm.
On your left, a recent picture, personal introduction, recent comments, and context on this site (including links to webtoys like Upcoming). On your right, stories from Japan and beyond load randomly, adding a little unpredicted picture and history to your browsing. Below them, the return of the free 160 pixel square advertisements. Got a project you want to promote?
And below that a list of recent freelance articles. What you can't see immediately, and what took so long, was shedding ever more of my historical sense of web production, finally ditching my beloved table layouts in favor of the sheets of style those kids use. Centralized style allows me to restyle and adopt parts of this site faster. Much of the same rationale I used for adapting web publishing software over hand-coding. It was only a matter of time before I merged with the great database; I feel closer to my computer now.
This front page is actually three Movable Type databases ("web logs") feeding into one source. The central column with comments is the central database of Links.net. The picture in the corner comes from another weblog database, so I can add a new personal snapshot easily, and preserve the old ones in a certain order (each snapshot now links to a little bit of context). Then there's a third weblog, listing my published articles.
Besides that, there's about five other databases I've started here I haven't yet integrated into my content flow. Experimentation with web tools and technologies! This morning I had a Mama's Royal breakfast meeting with Patrick and James of TongueWag - online webcam video editing and inline distribution. Make a webcam video weblog! That's the promise of their technology. I worked to imagine how I might make and view a web page with lots of tiny videos embedded in it; James pointed out that viral video sites like TTR2 are popular early uses. They have built it - who will come?
I'm sitting in my chair, at my desk, ten days until I leave for November in London. Infrastructure construction continues - stabilizing and improving those parts of my life within reach, so I can continue travelling for this fall. Maybe I have a broken heart; the last two days since I've been back I've spent at least twenty minutes a day holding a very soft baby, prone to smile. That's real swell and soothing.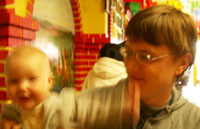 One example of personal infrastructure - a few weeks back I finally set aside an afternoon to figure out spam filtering. Since September 3, until today October 24, fully 9569 pieces of spam have been filtered out by SpamAssassin. That's an astonishing number - not nearly so astonishing as remembering the many hours I spent before September filtering out all spam by hand - almost 200 messages a day.
(Preservation: old design, sample old individual page. Raw Front Page Layout Archive)
Posted on 24 October 2003 : 14:15 (TrackBack)
Read Comments
February 2005 - comments are closed on Links.net. Thanks.