Wednesday, 20 August -
link
dish drying shelf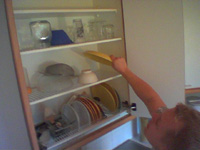 I volunteered to wash some dishes at Justin's house in Finland. I couldn't find the drying rack, so I stacked them on the counter. He opened the cabinet above the kitchen sink to reveal a multi-story drying rack and shelves combined! What a miracle of common sense and smart design.
Do they keep their pots and pans up there too? Or is there another drying rack shelf down below, where the excess water from the heavier cooking vessels drains into the floor.
Posted on 20 August 2003 : 21:08 (TrackBack)
Read Comments
February 2005 - comments are closed on Links.net. Thanks.