Wednesday, 20 August -
link
Suomi's Shopping-Free Sunshine
Coming down off a few days in Finland. Summertime up North - the hard work of a long winter makes summer sporting. People seem to make an effort to congregate in public, to skim the ocean in sailboats.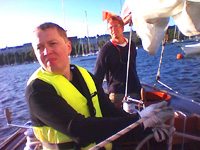 This contrasted with the single-season Bay Area, where nearby beauty beckons all year round and I seldom leave my living room.
So to visit Helsinki in the summer time is to be in a manageable culture capital, where the distance from the opera to the modern museum is a pleasant walk through an ocean-side park. There's free wifi here, and there are small boutiques, smart restaurants, cafes and public transportation.
I went into the Diesel clothing store there (they only have the regular fashions, which are quite popular, not the more expensive "style lab" line). The young clerk, an eager student of fashion, pointed out that the major Finnish design brands, Marimekko or Iittala, they are still making decades old products. An emphasis on "the classics." Yes there are new designs coming from those studios, but how hip can a company be if they are still selling the same cups that your parents received as wedding presents? [answer: retro hip, for the next three months]
Sitting around the cool back room of the warm Sauna Bar, some half-naked and some clothed, the Helsinki bloggers lamented the fact that there are so few ethnic restaurants in town. I had raised the issue of immigration - in a country where people contribute so extensively to the public good, is there a sense of guarding that good from non-Finn invaders? These urban electrified youth seemed eager to share in all kinds of culture, whoever might move to Finland. Immigrants are welcome, if they would only pack their spices.
"I just want a 7-11," one said simply; longing for convenience shopping on his schedule. But there are laws in Finland, Butt Ugly blog's Janne mentioned, that regulate store hours. Stores of a certain size must close early on weekends and can't stay open 24 hours. I was dumbfounded to find Stockmann's, the large downtown department store, open only for six hours on Saturday or Sunday. I needed a new notebook, dammit, and I didn't want some Scandinavian helping me regulate my life. I was forced to turn on my heel, away from shopping, and back out into the streets brimming with strollers, skateboarders, sidewalk cafes and long hours of shopping-free sunshine.
[photo: Marko and Kim sailing near Helsinki]
Posted on 20 August 2003 : 21:55 (TrackBack)
Read Comments
February 2005 - comments are closed on Links.net. Thanks.