U-Hauled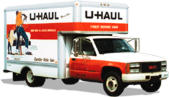 With fond memories of "Snatch it like you live, Baby" I called up the Berkeley local U-Haul today. 15 rings, no answer. Tried again, seven rings, no answer. Then I tried an Oakland-local U-Haul. I reached someone, they immediately put me on hold. Ten minutes elapse, they reinitiate the phone call. "Hello I'd like to make a reservation." Hold on. It's like this, repeatedly - it's like dealing with someone who has no short-term memory. "Hello, who are you?" "Hello, I'm Justin." "Oh, okay. Who are you?" Actually, the carnival of personal suspense and miscommunication on the phone with U-Haul is a bit like any night at the Southern Cafe.
I have work to do, so I just do my work and wait for the speakerphone. I'm practicing complete calm - no irritation each time someone picks up the phone and speaks to me like its our first time communicating. Hello this is Ida. Hello Ida, (I'm not going to mention that you've spoken no more than six words to me four times today), I'd like to reserve a truck. What sized truck? 14 feet. Hold on. And again I'm swept along into fifteen minutes of uplifting piano music with trilling saxophone and a confident man explaining secure self-storage and towing opportunities.
All this to reserve a rental truck to help my brother move out of his Palo Alto apartment. He's moving from PA to London, so I'm taking his nice grill, a queensized bed, maybe some bookshelves, another TV.
Is Oakland U-Haul busy? Filled to the brim with people? Or just a few deeply pestering customers? I imagine myself a communications entity, represented by an evenly-blinking red on-hold light on a phone up near the register. My most recent call was 25 minutes of on-hold, at which time sweet Ida picked up again. But my speakerphone was on mute so we couldn't reach each other! And she hung up. And so our dance begins again.
Posted on 1 August 2003 : 13:38 (TrackBack)
Read Comments
February 2005 - comments are closed on Links.net. Thanks.