Keyboard Kometh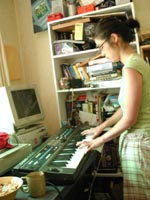 I helped Jonathan Steuer clean out his old Dolores Street apartment; he gave me an old Casio CZ-1000 keyboard. I have it on my desk here, in front of the old Mac I use for scanning and scribbing on the Wacom. Now, sometimes, Jane stops by my desk to speak with me, and she can't resist turning it on and practicing a few bars from Dealership, or playing around with new songs. And I can't resist either; after a few hours of pluggity-plug on the computer, I'll stand up, move over about four paces, and noodle around a bit while I look out the window.
Posted on 17 June 2003 : 08:24 (TrackBack)
Read Comments
February 2005 - comments are closed on Links.net. Thanks.