Masked Man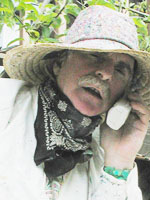 Who is this art bandit pictured here? In a customary wide-brimmed hat but now sporting a bandana to protect his lungs from dust, this is a photo of Howard Rheingold, soapstone sculptor, pausing from rasping and grinding to answer the phone. (As is customary on Links.net, you can click on this photo for a blow-up).

Posted on 17 June 2003 : 08:35 (TrackBack)
Read Comments
February 2005 - comments are closed on Links.net. Thanks.