Consensual Boosterism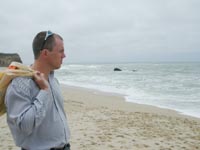 Spent the weekend at the Stanford Business School, watching my brother graduate with his MBA. As best I can tell, the business school experience is one long bath in a very specific pool - getting dyed wet with the colors of a high-level network in commerce.
I was on the tail end of being sick, so I wasn't up for some of the late night parties. Just for a moment I turned to Jane and said, "Quick, let's get to know these people! They're going to be running the world!" But really I was struck by their demeanor - they were all optimistic, boostering. Trained to meet new people and see opportunities, they listened and smiled and commended innovation. Perhaps this was just the case with the people my brother introduced me to; like my reunion weekend, I was working to find the common characteristic here.
Myself I've fallen behind a bit - my brother asked, after his graduation ceremony - "did you meet any of the families sitting around you?" I had to answer no, twisting his face up in a moment of disappointment. I sat in a folding chair, talking to Jane, talking to my Mom, talking to George, my family members. I looked up at the sun, I watched the leaves. I flipped through the book listing the graduates, counting letters to see who had the longest name - (I suspect it was Katariina Amara Rajapaksa-Yapa Tuovinen). Jane and I picked out name-fragments we might use for characters in future Dungeons and Dragons sessions. In short, I stimulated myself with the materials at hand, not reaching out to other folks.
Part of that may have stemmed from blowing a giant glutinous glowing snotload every five minutes into whatever paper I could find. That and regular chest-seizing hacking spasms kept most folks at a distance. Illness aside, these days, I find myself lacking some of the appetite for rapid-fire meet and greet since I have so much ongoing conversation to tend to.
Posted on 17 June 2003 : 07:49 (TrackBack)
Read Comments
February 2005 - comments are closed on Links.net. Thanks.