Mark sees Saddam's Throne
Mark Meadows, aka Pighed, is someone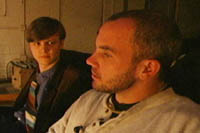 I've been seeing on and office since before the web had whiskers. Two young blokes scamming h'ors devors off the spilling-over tables of the internet plenty. PARC Anarchist-in-Residence proposed a pig-fucking art installation for my professional web conference art room. Beneath black-clawed hands painted crucified art on his warehouse wall, burning kerosene lantern snakebone necklace, interview and afterwards walking to sushi near San Francisco. Then after talking to recently released convicts, we shucked shellfish on the shores of dusty Austin.
More has more hunger than I do these days. As a painter, he lived in Paris. Then to Sri Lanka, and finally, recently, Iraq. Here is Mark, slipping into dark corners, comfortable for him, unseen by roving US forces keeping cameras like his out of Saddam's bathroom. He lurked successfully so far, and he's shared what he's seen with the web: Mark Meadows in Iraq.
Posted on 28 May 2003 : 12:16 (TrackBack)
Read Comments
February 2005 - comments are closed on Links.net. Thanks.