Red Meat Storage Stew
A chill has set in on the Bay Area. And Jane and I have thirty-six hours straight to be home. So I spent Saturday afternoon, between bouts of EverBlue 2, cooking up some Red Meat Storage Stew. Storage, because I made enough of it to feed us far in the future.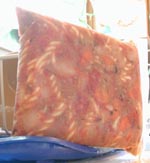 Stew Storage
Posted on 4 May 2003 : 11:15 (TrackBack)
Read Comments
February 2005 - comments are closed on Links.net. Thanks.