Sunday, 23 February -
link
are you on the internet right now?
My brother has taken to calling me from the road, in his car. "Are you on the internet right now? Can you look up "moon zoom san jose" and type the address into mapquest for me?"
Invariably, the internet is within reach, so I do as he asks. I give him an overview of the directions. He responds, "Okay, but tell me how to get there from Guadeloupe Parkway - that's the street I'm on now."
I offered to give him the phone number for the store, so they could talk him through this too specific request. "I already called them," he replied, "but they hung up on me. They were too busy helping customers."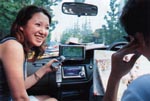 When I was living in Japan, it seemed that most of the cars, even the tiny crappy cars, so many of them had car navigation systems - "Navi". 3D flythrough mappings of popular destinations and spoken guidance to get you there. In Los Angeles this weekend, my rented car had a navigation system in it - pretty handy once you tamed it by avoiding the 405 freeway ("recalculating route, recalculating route"). I think I'm going to encourage my brother to get a car navigation system installed in his next automobile. I considered putting one in my little Honda, but then the installed electronics would exceed the value of the car. And who knows when I might next visit Eli's Mile High Club and get my automobile media devices ripped off again?
Colin replies, "Thanks for the directions, if I get lost I'll call you back."
Posted on 23 February 2003 : 15:53 (TrackBack)
Read Comments
February 2005 - comments are closed on Links.net. Thanks.