Tuesday, 11 February -
link
Show and Tell with RyanJ
I work as a freelancer. During the course of a week, I have appointments, I visit other freelancers in the Bay Area.
Typically I travel to their house. They show me what they're working on. And they show me media artifacts that fascinate them.
Today, I visited Ryan Junell. Ryan and I first started working through WebZine, a conference in San Francisco promoting independent web media production. Ryan was the event organizer, I was the emcee.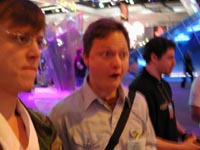 Since then we've brainstormed a TV show, attended a bunch of game industry conferences to tape interviews and footage. These days he's performing music and video cut up with laptops as part of Sagan (MP3s), making independent music videos for Bay Area bands and comedy troupe Killing My Lobster, jonesing for good Game Cube games and researching petroleum, existentialism and the possibly sinister connection between U.S. Secretary of State Colin Powell and his son Michael Powell, chairman of the Federal Communications Comission.
Ryan and I always do show and tell - it's a sizeable part of our time together. Looking over books, video clips, web sites, listening to music. Ryan turned me on to Charanjit Singh. I gave him a copy of the book Satellite of Love. Today, he showed me a great video Nada, and some unusual video mixings of pharmaceutical ads "Radial Medicate" from David Tinapple on the reline.net DVD collection of video art. It's only about $12 - a good cheap fee for unusual video art, though Ryan did say he wished there were more clips included.
Most of the creative projects we covered have MP3s available online. I love talking about music here that I can link to so anyone can download it and experience it for themselves! I want those creative folks to be able to make money, and I like being able to support them, to buy a piece of it, a collection maybe - often a DVD. I'm increasingly intrigued by this idea of making short bursts of intense media for downloading (MP3s, video clips) and then selling a DVD or other merchandise to support the work. Dealership discusses this kind of distribution in this interview with Creative Commons.
Ryan awakens my desire to work with video, taping myself and the world I see, and preparing it for distribution. Time to start saving up for my own digital video camera! And then maybe a used computer to edit clips on. I already know where the video clips will end up once I get started - recently I've been watching more TV and video clips over the Internet than I have over regular TV.
Posted on 11 February 2003 : 02:14 (TrackBack)
Read Comments
February 2005 - comments are closed on Links.net. Thanks.