How I Came to Work on Culture @ ngmoco:) / DeNA [DRAFT]
Introduction
In 2011 I found myself working as "Director of Culture & Communications" at ngmoco:) a San Francisco-based mobile phone game developer & publisher.  I focused on aligning the personal growth of our employees and the goals of the company.  Supported by my info-hungry colleagues, I arranged peer-to-peer classes, host internal innovation days and publish internal media channels packed with news, statistics and access to shared knowledge.
In the fall of 2011, Joseph Walker, a reporter for Dow Jones called asking for an interview about internal culture at ngmoco:).  Silicon Valley companies were paying attention to "culture" and Joseph was working on a piece.  I was happy to talk with him, to see what I could learn.  I remember filling up the interview mostly with answers and not questions; at the end I believe I extolled the virtues of medical marijuana laws. Fortunately his piece offered a sober survey of "culture" in software companies in late 2011.  Joseph's piece "For Tech's Elite, Mobile Gaming Is a Big Play" ran in the Wall Street Journal on 11 November 2011, with a picture!  Surprise :-) My Mom hung it up in her kitchen - my family was glad to see me getting some good billing in a business paper of record.
As a result I discovered other folks doing culture at game companies, primarily Vlad at Riot Games.  Finding community with another culture coordinator at another company was heartening and inspiring in a still narrow field.
Hopefully this piece can provide support and inspiration for more distant folks eager to connect people and knowledge.  This story covers a mobile video game startup/post-acquisition company in San Francisco in the early 21st century, so some methods will likely seem antiquated soon.  Fortunately our co-evolution is timeless, as long as there are humans in the universe we will be trying to do better. Let's share our experience!
Below is a thorough writeup - there's a lot of blah blah below as I like to overshare about my life and process.  Here's some immediate gratification:
Five Things You Can Do
FIVE THINGS YOU CAN DO TO EVOLVE CULTURE WITH YOUR GROUP
assuming you're involved with multiple humans and your success depends on communications between them.
1. Publish an internal newsletter.

Interview people, ask people to share their hobbies, extra-curricular activities, jokes, poems, stories, music reviews.  Then paste those pices into a word processor or page layout program and email the result to everyone at your organization.  I focused our newsletter about 70% on non-work related materials: my goal was for people to have talking points in case they ran into each other in the hallway:  "Oh, you do kickboxing?" or "I'm in a band too!"  We began an internal monthly PDF newsletter in January 2011 and haven't missed a month, even if some of them are only 3 pages, instead of the usual 20.  (More about newsletter here)

2. Arrange a class at lunchtime.

Everyone at your firm practices some special skill or works at some special task.  Everyone has to eat.  Ask someone to take the specific thing they're doing for the company and speak for 20 minutes about it and take a few questions.  People bring their lunch to that room, listen to the lectures, and feel like they know a little more about what's happening at the firm. (More about lunchtime here)

3. Help leaders socialize.

Executives work hard and they operate in a maximum demand environment.  Regular employees, at large companies, tend not to see much of executives in their midst.  So, schedule time for executives to eat lunch in the lunchroom like regular folks.  Sure it's artificial and awkward.  If you practice enough it gets better, and it's important for people to feel connected as humans.

4. Identify faucets, pipes and sinks.

What are the sources of information, the channels its shared over, and the people who receive it?  You may never be able to create a good map of all this information flow within your company, but the exercise of focus on your internal communications can help people see gaps and use existing systems more mindfully.

5. Create opportunities for people to create together.

Does your company host happy hours?  Gather people around a shared goal and something different from their normal work.  Everyone likes drinks and food at a gathering, but bigger memories and personalized souveniers can come from shared creation.
Below is the extended story of how I came to work on culture, how we defined culture work within our game studio and technology company, how we evolved our approach over time and what I learned connecting with people, knowledge and momentum @ ngmoco:) / DeNA. At the end of this story, I end up as a recruiter! Huh!
HOW I CAME TO WORK ON CULTURE @ ngmoco:) / DeNA [EXTENDED]
Table of Contents
free-to-play mobile social game producer

ngmoco:) was founded in July 2008 by game industry veterans who saw the first iPhone and realized it would be a profound new platform for gaming. The iPhone was a networked device with great graphics, a touch screen, portable, always with you - if you could make compelling games there, you could reach a huge audience.
By 2009 ngmoco:) had released a number of promising early iPhone games including Rolando, but the price-margins were being pressed down. You couldn't reliably release a steady stream of $5 hit games and though 99¢ games might attract more customers, you couldn't build a thriving business on discount software like that. So in late 2009, ngmoco:) shifted all their future development to be free-to-play - you download and play the game for free with optional paid extras. ngmoco:)'s first two free-to-play games were Eliminate, a first person shooter, and Touch Pets Dogs, a pet dog simulator.
1 March 2010 ngmoco:) hired me as employee #57 to be a Producer on their Touch Pets franchise.  The prior producer, Matt Roberts, was working full tilt on a new game called We Rule that seemed quite promising and they needed to free him up to focus on that. I was generating schedules, features, feedback from ngmoco:) HQ San Francisco with a talented game development studio in Portland Oregon, called Stumptown Game Machine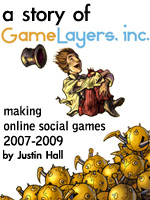 My prior work had been running my own internet games startup.  That company, GameLayers, didn't survive - we transformed surfing the web into a massively-multiplayer online game PMOG/TheNethernet. It was free-to-play with over 120,000 registered players, but no one wanted to pay into our game in a Firefox toolbar.  After interviewing at a number of companies and walking my dog a lot, I went to ngmoco:) a mobile games company. I had known one of ngmoco:)'s four founders, Alan Yu, for many years from game industry conferences. Plus I'd been a mobile games journalist from 2000-2004 so ngmoco:) seemed like a natural place for me to study how commercially viable entertainment software is built.
Touch Pets was my first project for ngmoco:).  I helped publish Touch Pets Dogs 2.0 with a neighborhood view of your in-game friends, and a pirate-themed costume pack for your virtual pet dog. After learning something about Apple's App Store ecosystem, I had a chance to evolve the Touch Pets franchise with a cats game.  We started in on production of Touch Pets Cats just a month or two after I joined.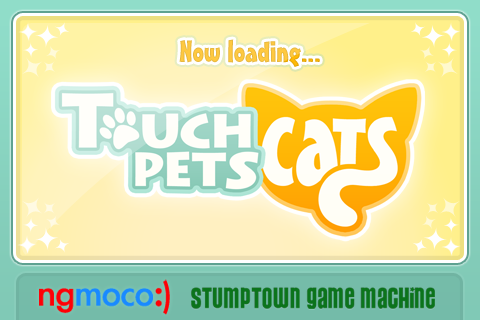 We had a team of about 12 people working on the best line of 3D pet simulators in the App Store!  I was particularly proud of the pleasant interface, the refined tutorial and the rich home-decorating options we offered.  In addition, I met with the ASPCA (American Society for the Prevention of Cruelty to Animals) in NYC and they agreed to have an in-game donation button.  We couldn't allow people to directly donate from their iPhones though, because Apple prohibits those kinds of transactions.  So instead we linked to a mobile version of the ASPCA's web site so people could donate themselves.
Touch Pets Cats launched in November 2010.  Ryan Junell made a fantastic fun Touch Pets Cats trailer. Cats launched a few months later than we expected, because Apple was reviewing virtual currencies in games, and we had two different currencies (catnip and coins) so they took a whole lot of time to review and approve us.  Once we released, the ngmoco:) social games machine kicked in and we were able to cross-promote our game into serious App traffic land.  In November 2010, Touch Pets Cats peaked at #2 free in the US iPhone charts, and #8 on top grossing, largely because ngmoco:)'s more successful game We Rule sent traffic over our way.  Ultimately, however, Touch Pets Cats didn't have enough of its own momentum in the app store to be a long term hit.
I shifted to produce a project codenamed GeoWars, a location-based pet collection and battling game, extending the Epic Pet Wars franchise that ngmoco:) had purchased when they acquired Miraphonic.  Miraphonic was two whip smart dudes in their early mid-twenties, Drew and Amit.  They could both program, they had great momentum to create games.  As their Producer I worked mostly to keep execs out of their hair and provide resources for them to keep pace.  I took a cab from an appliance store to the office with a mini-fridge in it so we could keep all-natural energy drinks cold in our part of the office.
the ngmofo;)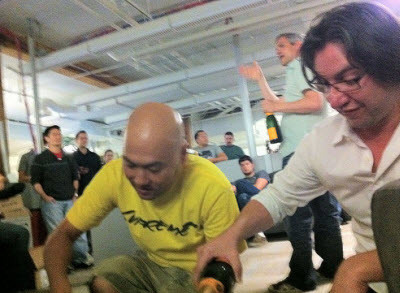 I took this photo of three ngmoco:) founders, Alan, Neil, Bob preparing the company to celebrate acquisition. Later used by Venturebeat in their article.
Around this time October 2010 ngmoco:) was acquired by DeNA, a titan of Japanese social gaming on mobile phones.  DeNA started as an online auction company in Japan - the name comes from "eCommerce is in our DeNA." DeNA was founded by Tomoko Namba, a rare female executive and McKinsey consultant in Japan who had been educated abroad. DeNA seemed more international and modern than most Japanese companies. I had lived in Japan between 2001-2003 working as a freelance journalist writing about mobile technology and mobile phone games - it was a funny full circle on my career.
Our newly combined company began work on an international software platform for publishing mobile games: Mobage, pronounced mo-bah-gey. All games-in-progress would be rewritten.  What had been a desparate crunch to release our games in late 2010 was now a chance to evolve and retool projects for Spring 2011.
I had spare time. I looked around at our growing company and I realized that I was working with fascinating people.  So, I began to interview my colleagues, and recruit them to write about their passions.  In January 2011 I published an internal company newsletter: a few pages laid out in Adobe InDesign and compiled into a PDF emailed to everyone in the company.
Articles included a wrap-up on our office Fantasy Football, an interview with an employee, a review of a nearby food truck, an article promoting standing desks, a recipe for butternut squash ravioli and a honey-based cocktail, and a trivia contest.
The first issue of the ngmofo;) newsletter came out in January 2011. My colleagues were excited, so I took up monthly production. Funny to realize months later I had started a monthly internal company newsletter the last time I had a job, in 1999 at Gamers.com.
"Culture Eats Strategy For Lunch"
5 May 2011, Neil, our CEO was presenting a newfound focus on "culture" within the company.  If we focused our efforts on evolving our tone, talent and process, then we would have the proper people and systems in place to make our company nimble and empowered to deal with rapid change and big opportuntity.  Would you rather have a few people deciding what everyone should do (strategy), or would you rather have an entire organization where everyone is literate and motivated and connected to the group vision (culture)? Our leadership explained that "culture eats strategy for lunch" (here's a January 2012 Fast Company article with that title).
Neil reminded us that our company values were Delight and Own.  Know your customers and their expectations: then exceed those expectations to create Delight.  If you find something that needs doing and no one is doing it, you're the owner: own the outcome from beginning to end.
During the meeting, I asked our CEO: what is a good example of company culture? "Your newsletter" he replied. Hah!
Meta-Game or Culture?
I had published two newsletters and my game project had shifted to a slow burn while the company focused on launching their platform. By March 2011 I would soon need a new Producer project.
Around this time the executives of ngmoco:) pulled me aside.  You're a decent games producer, they said, but you're better with this culture stuff.  Turns out it's a valuable service to connect people with ideas, with each other, and with the mission of the company, especially for a growing enterprise.
At the same time, there was a roaring sound from the north??? side of the room as our engineers went after our Mobage / ngCore mobile social game platform hammer and tong.  The eyes of the company were on this software framework.  Did I want to help design a meta-game on top of Mobage / ngCore?  Wow - a metagame for a social network is a huge exciting challenge (I was once offered a chance to do similar work for Yahoo, and ended up working on GameLayers, a meta-game for the whole web instead).  As much as I wanted to innovate there, I had the feeling that our platform project was going to need to build basic infrastructure before they started in designing a meta-game.  I didn't want to design for months waiting to execute, I wanted to make a difference immediamente.
In March 2011 I left first-party game production and moved over to be a producer of culture under Alan.
I first met Alan Yu at video game conferences around 2000.  Alan and I share a passion for eating, and, it turns out, a curiousity about how you can align swiftly moving smart people around a common objective.  Alan was one of the founders of ngmoco:) back in July 2008: his initial role had focused on identifying talented studios and game developers for ngmoco:) to partner with.  Now in early 2011 Alan was focusing on our culture: developing internal knowledge-sharing and values alignment as we continued to grow and globalize.
Now, Next, Later
Alan started with a spreadsheet with three categories: Now, Next and Later.  We brainstormed and threw ideas into these buckets.
We identified the immediate need for an internal knowledge sharing web site.  I started in on our intranet dashboard.  I suggested we call it "dashboard", but Alan insisted we use our own language, to reinforce our specific local culture. In April 2011 we launched our Heartbeat.  
Heartbeat twisted Google Sites into a weblog with links to internal company news. The goal of the Heartbeat was to share the timely news of the business at a glance, and connect people with opt-in deeper knowledge. We posted flyers, made Heartbeat part of our onboarding experience, talked it up in emails and eventually we had over half the company looking each week (according to Google Analytics).
Values
We had Delight and Own as our values.  Things we believed as a company: a code of conduct, but also the standard we wanted any employee, any "mofo" to reach for when they wondered what to do. It was my first time working at a company that so explicitly stated its values, and had conversations about what they meant. I spent hours in rooms debating the meaning of Delight and discussing Ownership. It was fascinating being a part of a sort of philosophy club within a business. I came to see our values as programming for people: the way we intended to stay aligned as we grew and evolved.
We had a nickname for ourselves as employees of ngmoco:), "mofos" - ngmoco ngmofo mofo. mofo is also a common contraction for a strong profanity in English. So using "mofo" as our internal employee identity felt appropriately lively, fun, unorthodox, hard-driving.
Alan printed up some quality gray "ngmofo" t-shirts with "delight & own since 2008" on the back neck.
In July 2011 we launched ¡mofo recognize! - anyone in the company could nominate someone who exemplified delight & ownership. Then at our next All Hands meeting, Neil CEO would stand up and read your commending remarks on that person. After a few months or so, we decided instead to ask the person doing the recognition to read the remarks, making an employee-employee connection and giving All Hands more voices.
Spring 2011, I was in the midst of a divorce and I had a two bedroom apartment to myself. My ex-wife had wanted to live in a neighborhood where she wouldn't be catcalled, so we lived in a party-ready flat above a sex shop and a smoke shop on 18th street near Castro street in San Francisco. That neighborhood is a year round party. I invited all 120 San Francisco employees over for brunch and for evening parties to make use of the space and to enjoy home-based camaraderie while we were still small enough to pull that off. Various folks came from across the company each bringing their own favorite foods and mingling across teams. I love that.
Playbook?
The mobile social gaming business was evolving at a breakneck pace, while we were hiring like chimneysweeps before Christmas. Our teams were learning fast and moving faster.  Alan urged me to put together a "playbook" - a codified guide to our best practices.
I could picture this knowledge base - sorta like Wikipedia! Edited by everyone and totally up to date! A huge challenge. I knew I couldn't fill a knowledge base myself.  Instead I could hope to architect a good structure and process for everyone to fill and keep updated.  In mid-2011 we communicated over email, IM, SMS, JIRA, and a wiki.  Collaborative editing on a wiki could be perfect for something like this, if we think of Wikipedia as a shared knowledge base.  But the experience of wikis turned many people off and feedback said we should find another way to collect knowledge if we wanted to get a broad range of folks contributing.
Months of research into different tools revealed no immedate means of collecting human wisdom across diverse sets of expertise. How can you build documentation time in to busy work schedules? Most people won't prioritize documentation on an ongoing basis, and I wasn't prepared to be a constant journalist updating all knowledge sources across the company.
Alan always encouraged me to think about scalability. My instincts from years of making web pages and writing articles: just do it. Just make something and evolve it after you've got the first version up. But that doesn't always work when you're building something to be used by hundreds or thousands of people. Develop systems, tools and "frameworks" I can see Alan saying now, bald head nodding as he draws a picture frame in the air. Take myself out of the critical path - harness the energy of the company to teach and evolve itself.
So we fell back on the place most people already were: email. We started an "insights" mailing list for anyone to email sharing something they've learned. Insights was off and running with competitive analysis, articles, questions, data from our games. We didn't set up many rules, only that we asked people to please include their own brief analysis if they were sending articles, so we didn't end up with a list of forwarded URL web links but instead strove to kick off a conversation.
Alan Walks the Plank
7 July 2011 was a full day for me: my divorce was final, my mentor Howard Rheingold turned 64, and ngmoco:) left for our 2nd anniversary retreat at Chaminade.  At the event, Neil announced that Alan was moving to Europe to promote our global strategy by opening an office in London.  Alan stood up and gave a speech about "walking the plank" - taking a risk, giving the crowd the advice he gave me when I started at ngmoco:): "beg forgiveness, don't ask permission."
Alan spoke to over a hundred gathered mofos well into our cocktail hour.  It was dark outside, the courtyard was lit by strings of lightbulbs.  I was running one camera on Alan, and designer Tim Shundo had his own personal DSLR pointed at Alan.  I cackled with glee as I synced the two videos together in Final Cut Pro to fashion a video of Alan's remarks, a cultural statement on our internal network.
With Alan gone, I was promoted from Producer, ngmoco:) culture to ngmoco:) Director of Culture & Communications.  I was a team of one executing in the direction established with Alan before he headed off to the UK.
With Alan gone, I reported up to Christina, our "C3PO" - Chief People, Process and Places Officer. Christina shared Alan's direct approach: tell the truth, make up your mind, get it done, share a laugh.
Japanese-Cooking
We were now part of a Japanese company. And we had an outdoor patio where we could cook together. I knew from witnessing hanami in Ueno-koen that Tokyo folks knew how to party outdoors. We threw a Japanese food BBQ that our local DeNA counterparts helped pull off.
We rolled sushi, we made yakitori skewers over bincho charcoal, we had tako-yaki octopus balls cooking in a sheet of tiny icon scoop-balls. A wide platter on the grill served okonomiyaki, Japanese omelette and yakisoba, Japanese grilled noodles.
We shot some casual goodtimes video and edited it together - documenting some shared intercultural mingling for our newly global company.
ngEngineers
ngmoco:) needed to hire a lot of engineers to build our software platform. We had a reputation as a mobile game maker; we needed to impress upon people the scale of the platform we're building: billions of people playing together across the globe. That's a hefty coding and scaling challenge. Come n' get it!!
I immediately thought of my old comrade in video making, Ryan Junell. Ryan ran a series of indie web conferences in San Francisco "Web Zine" and made a number of animated short films for Sagan, companies and causes like Creative Commons. We collaborated on a number of projects - I like Ryan's sense of humor and he has a way of finding good heart in material.
Ryan and I drafted a creative brief. He wanted to see comparable videos, what had we seen that we liked? Facebook and Twitter had recently done some fun videos. One Facebook video "Prime Time Hack: The Birth of Facebook Video" featuring multiple voices over office scenes was inspiring to us. Informative without being dry.
Ryan suggested Brian Relph as director, Brian pulled together a local crew: five total folks with me. Over two days I served as the interviewer, talking to ten of our technical leaders to get their perspectives on the opportunities ahead and the culture of the office. And we shot fun footage of folks around the office, candid scenes and b-roll. Brian and his team shot it in 10 minute chunks on the memory cards of Canon D5 cameras. After the interviews were done, I took the MP3s of the audio (recorded separately) to begin transcribing the best lines and building an arc to the story.
We sent a hard drive with all the footage to Ryan Junell at Superbarn in Connecticut. He started on drafts and I traveled to Connecticut and sat with him for a few days in muggy May 2011 as we combed the materials and pulled together a solid recruiting video. Ryah layered in some music from Sutekh, and here's our video:
Denison with Dawson
July 2011 we wanted to take stock of ourselves. Were we living up to our values? Were we aligned around a common purpose? Did people believe the vision? We hired an organizational development expert named Chris Dawson, and together he and I ran a Denison-type survey. 20 minutes from 144 employees across timezones, yielding pie charts of focus and attention. This was a glimpse into the formal culture work that many companies do - numerical surveys of employee feelings.
We also hosted focus groups and took notes. Plus we added open ended anonymous questions to the survey - there were reams of data to poke through. The results said that we were more aligned and more excited than most companies in the history of the survey, but we had our work cut out for us: especially around improving our focus on our customers.
This was confusing to some folks - who is my customer if I work in finance? Who is my customer in platform engineering? "Customers" seemed to suggest players gripping smartphones tapping for pixel coins in our free to play games. But if we wanted to encourage people to strive for delight throughout the company, we needed to give each team, each employee a sense of who they served. You know who you serve, you imagine what they want, you strive to deliver just a delightful bit more than that.
When we retained Chris Dawson, we envisioned drafting a formal culture roadmap for 2012. But the reality of our business was too fast moving. The survey helped push us to focus more on delighting our customers, whomever they were, and it pushed us bolstering those teams with challenged scores.
culture associate
Surveying, video-making, newsletters, it was a lot of overhead. Alan had seen me get overwhelmed with daily communications upkeep and suggested I consider hiring a culture associate. I felt that we wanted to hire a journalist - someone who knew how to find and tell stories within the company. Someone who could support me making videos and newsletters. But moreso, I wanted someone who cared about what lies within people: the particularties of individuals that can be excavated to form common humanity.
So we posted a job listing for Associate, Culture and I began interviewing folks to work with me here.
During interviews and meetings I have something of a cheap trick - I sometimes sit there silently smiling at people, just savoring the moment, to see what happens. It's a chance to see what people do with nervous energy, or with unconstructed interaction.
One candidate Stephanie responded smartly - she said "you're being silent to see what I do" she called me on a journalist's trick. That was a moment I was ready to hire her. Beyond that she evinced a fondness for people, a drive to evolve herself. Plus she'd done homework on our company. She knew about our market, our history. It was a huge boost to her candidacy that she had taken the time to do her homework and find our story.
She had a reel of her on-camera experience that amused and delighted me; I love her newscaster inflections when she's talking:
She was a television journalist looking to explore life working for California startups. Stephanie started on 3 October 2011 and immediately evolved Culture & Communications.
She started interviewing new employees about their work and hobbies, sending out a weekly email newsletter with video clips, introductions and important company news. She took my PDF newsletter and staged custom photo shoots to give it a better look and involve more people across the company, around the world. Plus Stephanie pushed hard to make our holidays more exciting.
Halloween 2011
Rip in our IT department ran the AV for our All Hands meetings - he said he had a smoke machine. That sounded amazing - I loved the idea that our front desk could be shouded in smoke every few minutes - so atmospheric! I got his smoke machine and started to test it with just a few puffs - I can report that smoke in an office is very usual. Someone mentioned that they heard the smoke might set off the sprinklers; amidst my excitement to set up for Halloween I did some research to discover that nearly all conventional office fire safety systems detect the smoke from smoke machines as fire. Unfortunately a bad fit for the office and I had to abort that plan :-(
Stephanie had a huge passion for holidays. She pushed us to amp up our celebration. Our Halloween in 2011 had flyers promoting a costume contest. A pumpkin carving contest. A costume contest!
Tom, a game producer, was fond of kicking off company-wide "photoshopping" thread. Tom asked "What should Justin's Halloween costume be?" sending out a PNG of my head cut out against a transparent background. There were 46 replies with varying crazy compositions - quite stunning to see my face participate in so many frozen pop culture moments.
Then, on the day of Halloween, I built myself a horned owl diablada mask costume. I've been fond of total-immersion costumes, where you can't quite tell who is inside something totally transformational. So I show up dressed as a bug-eyed owl, and a few folks had actually printed out Tom's PNG and dressed up as "Justin Hall" for Halloween. It was profoundly strange to stare at people dressed up as me. I was honored and tickled. Later I saw Bill Cunningham New York and I had privileged sympathy for a similar scene that happened to him.
Get Schooled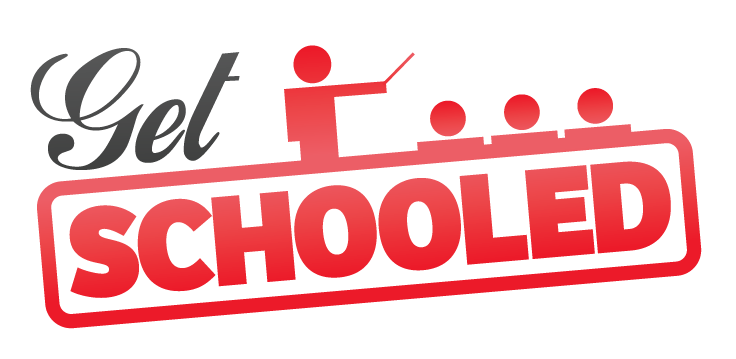 Every group of people is filled with subject matter experts. There's something everyone can teach. The business context gives more focus to potential lessons. Ashton Treadway at ngmoco:) had a passion for sharing engineering knowledge and he pushed me to start an education series. We hosted the first "Get Schooled" in November 2011 with a talk on Agile versus Waterfall software development methodologies.
Over the next 18 months we hosted classes introducing employees to a range of disciplines across our company:
How Games Are Made
git foo: best practices for engineers
A History of DeNA
Test-Driven Development
Techniques for Teaching yourself Japanese
Performance Tuning Games for Player Pleasure
the Social Gaming Business Equation
User Acquisition
Analytics Event Delivery & Insights
How to make videos (I taught this session to get more help making internal videos)
Third Party: How a Deal Becomes a Game
Interpreting our Primary KPIs (Key Performance Indicators)
User Interface & User Experience Design
All these classes offered people a chance to become cross-literate, to mingle with colleagues. The teachers had a chance to act as experts. It all warmed my heart and fit in neatly to our knowledge sharing, culture building mission. Plus we videotaped the proceedings and posted them online so remote folks could engage this curriculum.
2011 Holiday Party
The first time I ran a party was 1994. I was the 19 year old intern at Wired magazine's "HotWired" web division. We were moving from the top floor of 2 South Park (the Jeremy's building) to (the organic building). I threw a Halloween??? party in our old space, with an employee band, friendly DJs, food and donated cases of Zima, a launch advertising partner. I spent some of the party budget to purchase tiny pink microdots of LSD which I handed out to arriving guests.
Later I ran the invitations for the Wired 2nd Anniversary Party, an evening of dinner / music at a fabulous time-warp club "Bimbo's 365 Club" in San Francisco's North Beach neighborhood. My all-employee emails explaining the privileges of our tiered invitation system caused a major blowout between me and the founder/CEO Louis Rossetto.
In 2011 I was charged with finding a venue for ngmoco:)'s traditional sit-down dinner & dancing Holiday dinner in December. I immediately booked us into Bimbo's. Bimbo's maintains a 1930s feel throughout, plus there was talk of a persisting global recession. We declared the party a 1930s theme, and I sent around PDF guides to men's / women's clothes I found online, plus local shopping options.
A great range of folks showed off a custom fun look from another time. Broad brimmed hats, slicked back hair, high-wasted pants, zuit suits. Elaborate coiffure, pillbox hats, skinny short dresses, evening gloves. A ??-piece band with horns. Dancing, good food! And at the last minute, permission for two more items in the budget: a professional photographer team and shuttles for inebriated employees in the South and East Bay. The photographs were fantastic, fun, quality and the faraway housed folks were tipsy & grateful.
Resourceful Humans
When Alan left the company, I became part of Christina's team: HR, Human Relations. All my colleagues were female, in a largely male workplace.
ngmoco:) had grown like crazy, hiring 90 people in 90 days. For a company of 1?? people that was a lot of fast growth! We had spread ourselves too thin and needed to focus in around fewer priorities, to make due with what we had instead of spending more. February 2012 we had a round of layoffs.
Because I was part of HR I had known for weeks that the layoffs were coming. As the date grew closer I had an increasing sense of who might not be around. People began to ask me what was going on: why did things seem quiet and slow moving? Why weren't we talking about medium or long term plans or teams? Are we going to have layoffs?
I knew the layoffs were coming. I had no idea who would be laid off for sure, instead I weighed odds on anyone I talked to for the last three weeks of January into February. Is this person a keeper? I knew layoffs are a regular part of the business lifecycle, rewnewing human compost for new growth - pushing people and companies towards healthy change. But it was hard knowing layoffs were coming for weeks in advance without direct control.
And then I had moments of strongly believing that I wouldn't make the cut either and my colleagues weren't telling me. I had laid people off at GameLayers, which sucked. I knew there are business reasons for layoffs; I just realized that it was entirely possible that I was on the block and they just needed me to help keep things together until I was shown the door.
I was alerted that the "Culture Associate" position would likely be eliminated. I understood that my company couldn't fund 2x people maintaining culture at that moment - I hoped they would keep me around, because I wanted to see this through and I knew if I survived I would have a challenge to help raise the collective mood and momentum.
Stephanie had been taking on rush projects for our marketing department: for example a promotional video for We Rule made in Final Cut Pro in about two days. I felt like she was an asset to the company in any role. She had been busting her ass and working to come up with new ideas to evolve our workplace for her first few months.
I didn't have much to do and frankly it was hard to work. Part of my suitedness for a culture role stems from my connections with people. Knowing that a reduction in force was coming, and not knowing which questioning soul would be here in months to come, it turned my stomach at times. I cringed not being able to help mofos when they asked me for clarity or confidence about their work. Or when they cheerfully proposed projects for after a time I knew we'd likely be working with a altered, leaner organization.
So I decided that lobbying on behalf of Stephanie would be a good use of my time; I wrote executives and suggested she could kick ass on our marketing team. Then I rewrote the execs a few weeks later, with new examples of her hard work. I thought she was great and she should stick around, if she liked a new role, and if we could afford the position.
The layoffs were scheduled for a Monday. Friday before, I went to a party at Max and Jeet's house - two employees who opened their home for everyone to party. I had quite a bit to drink there...

drinking my way to a shoulder injury! No fault of John here, who was nicely bartending at that moment.
...and Saturday 4am I woke up to use the bathroom. As I prepared to climb over my girlfriend Ilyse, I tripped and fell on the floor - hard. I tore three ligaments in my left shoulder - Acromioclavicular joint separation. Suddenly I was laying down on painkillers waiting to see a parade of doctors to figure out if I needed surgery.
Monday 6 February the layoffs started. I got text messages from people I knew that something was happening. Email went out that there would be a special all hands. It wasn't going to be taped and posted afterwards, but you could listen by phone. I dialed in from the office of James Kelly orthopedic surgeon. Stumptown Game Machine, the pet game studio I started with, was closing. Stephanie was moving to the marketing team. Alan returns from Europe. Here's TechCrunch coverage.
I had shoulder surgery on February 10. I would be sleeping in a recliner in my living room for 2-3 weeks before I could expect to move around much. I floated through my days on hydrocodone and medical cannabis, plus metamucial, a bag of frozen shelled edamame beans and liver detox tea. I was in a lot of pain if I didn't take drugs or if I tried to move.
There was some strange parellel to the layoffs in my deluded mind: the company had taken a hit to social connections, project responsibilities, plans and responsibilities, not to mention tearing the social fabric. My job was to help connect people and I was wounded and stoned.
Since Fall 2010 we had been spread across three locations. Our latest space China Basin had 180 capacity with a view of AT&T Park and the San Francisco bay. We centralized all our SF people into this location and we were packing to move. I had a standing desk and I figured that was a lot to ask of someone else. Plus I wanted an excuse to get up. I missed being at work. I missed my colleagues.
I went back and people were smiling at me, pleased to see me up and about, supportive and encouraging of my healing. I packed up everything and began coming back to the office for a few hours a day, a few days a week. Now I was back working at ngmoco:), in the office building complex where I had worked, slept and showered 16 years earlier at electric minds.
the costume of culture
One of the things I love about San Francisco is the costumes. The city loves to dress up - it's a great feeling to walk surreal streets filled with all manner of heroes & villains, animals and living memes.
I worked to create those moments at ngmoco:) - Halloween, the Holiday party. And my own dress. When GeoWars began slowing down and the team was feeling buffeted by fate, I began dressing formally to help marshall respect for the project.
In addition I was freshly divorced and it boosted my self confidence to look serious and put together in public. Almost inappropriately formal for startups. I wear a collared shirt (white??? or blue???, Brooks Brothers, "Extra Slim" 15.5" x 34"), a necktie or bowtie, and a jacket, over some gourmet blue jeans and New Balance Minimus sneakers. Formal from the waist up, ready from the waist down.
In 2011 I got 2-3 haircuts a year, riding the inbetween stages for months. At the end of January 2012, my hair was quite a bit long, touching my shoulders and dusting my lips. Then I screwed up my shoulder and I certainly wasn't going to bother with a haircut. I showered by wiping myself down with baby wipes, thank you Burning Man. I didn't bother shaving.
When I began appearing at the office again, it was March 2012, a cold and wet time in San Francisco. I wore a large dark blue flannel coat with rope and toggle ties on the front. The coat had a hood which I wore to reduce the stimulation in my field of vision and stay warm. I hunched as I walked to protect my arm which was in a sling and not really allowed to type. Instead of the friendly guy in the tie, I was now the lurching hairy skinny guy in a cloak. Maya said I looked like a wizard. Raistlin I thought at the time maybe.
I kept the newsletter going, publishing a few short pieces in February and starting the engines for March and April. I dusted the cobwebs off the Heartbeat and updated the stories and fixed links. I scheduled more Get Schooled sessions.
Part of the way I played the Director of Culture role is as a cheerleader, or coach. Getting into situations to encourage people to do things. "Hey - teach a class" "Hey speak at All Hands" "Hey - help me come up with a craft idea for happy hour." I wasn't in much of a coaching position as I stumbled through the office high on opiates, wincing when I bumped or touched anything. Fortunately my colleagues were patient and my physical therapy was awesome and I was soon mended enough to transform my look and attitude:
Judy at Partners for Hair cut off my locks and shaved my whiskers. Neil, the CEO noted that I had ditched "my vietnam veteran look" - I started wearing jackets and ties again. It was time to see how I could use my energy to inflect the culture @ ngmoco:) and DeNA!
Makeathon
In March 2002 I participated in Indie Game Jam 0 - commercial game designers gathering to make new games in 2-3 days. It was a great hoot, a chance to experiment with new collaborators, new ideas, new formats. A break from the routine! Especially in video games in 2002 when most commercial projects take years to ever see the light of day.
I dreamed of hosting something like a Game Jam at ngmoco:) - could we break the pace of work to gather people into temporary teams and make game experiments together in just two days?
Fortunately there were many other folks @ ngmoco:) with a similar idea, and prior experience to draw on:
Google veterans referenced Hackathons and 20% time - enshrined, unstructured opportunities to create at work.
LinkedIn folks referenced "InDays" - monthly days devoted to flexible productivity.
Lucasarts veterans had seen "Dream Week" a week a year when teams made temporary video games.
mofos had friends and family working at Zynga, who also host hackdays.
Publicly-available information about Facebook's inspired Hackdays.
In Q2 2012 (March-July) one of my goals was to help engineers share knowledge and feel more connected to technical badassery. Steve Detwiler, the VP of Engineering at ngmoco:) wanted to host a Hackathon for engineers within the company. My boss Christina wanted to be sure that the entire organization was involved. Thus was born our first Hackathon "Makeathon" - we called it a Makeathon to invite non-coders to participate.
I was charged with structuring the Makeathon. If you have 160 people spending a day doing something creative, what rules do you want? What kind of pace and expectations?
Two knowledgeable friends stepped forward with expert advice: Leonard Lin, with Hackathon experience at Yahoo, and Mamie Rheingold with Hackathon experience at Google.
Leonard Lin was at Yahoo from 2005 to 2008 with the title "Hackmeister" - running Hackathons and "causing trouble at the company." I consulted Leonard by phone on 9 April 2012 and he had rich advice about the early days of Hackathons with Chad Dickerson @ Yahoo. Leonard talked about the intrinsic rewards, that hacking and making stuff was enough of a reward, without big cash prizes. Give people the freedom to work on whatever they want, and use the prizes to point people towards useful objectives (for example: best use of our internal technology, best productivity improvement, best new game idea).
Leonard sounded one strong cautionary note: a Hackathon can create false hope. If someone get whooped up about a new idea and the organization isn't prepared to flex around this new momentum, that person can end up feeling stymied. Fortunately when I approached Steve, our VP engineering, and I said "Hey Steve, what if our hackathon makes a bunch of people come up with awesome ideas they want to work on?" Steve replied, "that would be fantastic." Our hope was to drive new ideas and new energy into our organization with this unstructured time.
Mamie Rheingold worked at Google organizing 20%-time projects and hackathons for years. She offered sage advice on structuring the participation and teams: "Allow self-organization. But provide them a way to connect. Create a shared spreadsheet where people can add their ideas or join a team. Then create an in-person gathering where people pitch their projects and then mingle and form teams."
I followed Mamie's advice: using our internal Google Apps for Enterprise setup, I created a spreadsheet with three tabs: projects, people and ideas. I created an overview Google Site with an embedded slideshow detailing the rules:
5pm Thursday May 31 until 4pm Friday June 1
All employees @ ngmoco:) SF
23 hours of unstructured creative time
Collaborate on a new project
Teams of 2 or more ngmofos:)

Work with at least one other person that you do not regularly interact with in your job
About a month in advance, I lobbied the executives and directors @ ngmoco:) so they could factor a 1-day delay into their schedules. There wasn't much hesitation - people all over the company were excited to see this Makeathon event happen. Then on May 10 I emailed all@ngmoco with a link to the Signup spreadsheet, seeded with some preliminary data, and folks were off to the races.
Some folks took readily to the unstructured time - they planned a team name, logo, uniforms, recruited people. Other folks had a wide range of ideas and weren't sure what to do with them. Our basic rule of "collaboration with someone not on your team" made our Hackathon inherently social. This was a learning moment for me - many folks attend to their jobs only socializing with a tight range of folks. I work hard to know as many folks as I can, their names, their roles, their hobbies, where they live, where they worked before. I have a pretty rich social map of this organization. For people who don't socialize, finding a project was a challenge.
So, I worked as a matchmaker. I posted a public spreadsheet of everyone at our SF office asking people to mark if they were [Out of the Office] or on a project. The folks with nothing listed for themselves I IMed, emailed and approached their desks. I ended up introducing potential teammates, helping ideas take shape with assembled people. ngmoco:) had never done a Makeathon before, so I figured people would need help growing comfortable with grouping into teams and working in new configurations. Sure I posted Makeathon posters, and sent mass emails, and tuned the news site on the intranet. But the heavy lifting was identifying each and every un-claimed colleague to help them find a team, so when the event started they could start immediately building.
In the weeks and days leading up to the event, there was some cause for optimism - audible buzz around the office, random strange deliveries for supplies, preparatory team meetings - you could see groups of people who didn't normally interact or have work together gathering in rooms. New permutations!

Just before the event happened, a few folks needed to step out - to maintain crucial business. I was glad to have nearly everyone involved. Thursday 31 May we gathered everyone at 4pm to start. Teams gathered in conference rooms and corners of the office. Music played, pizza arrived. I worked with my team, making an internal mobile photo sharing app with assignments. By midnight I was falling asleep and I left at 1am as other folks were still hammering away.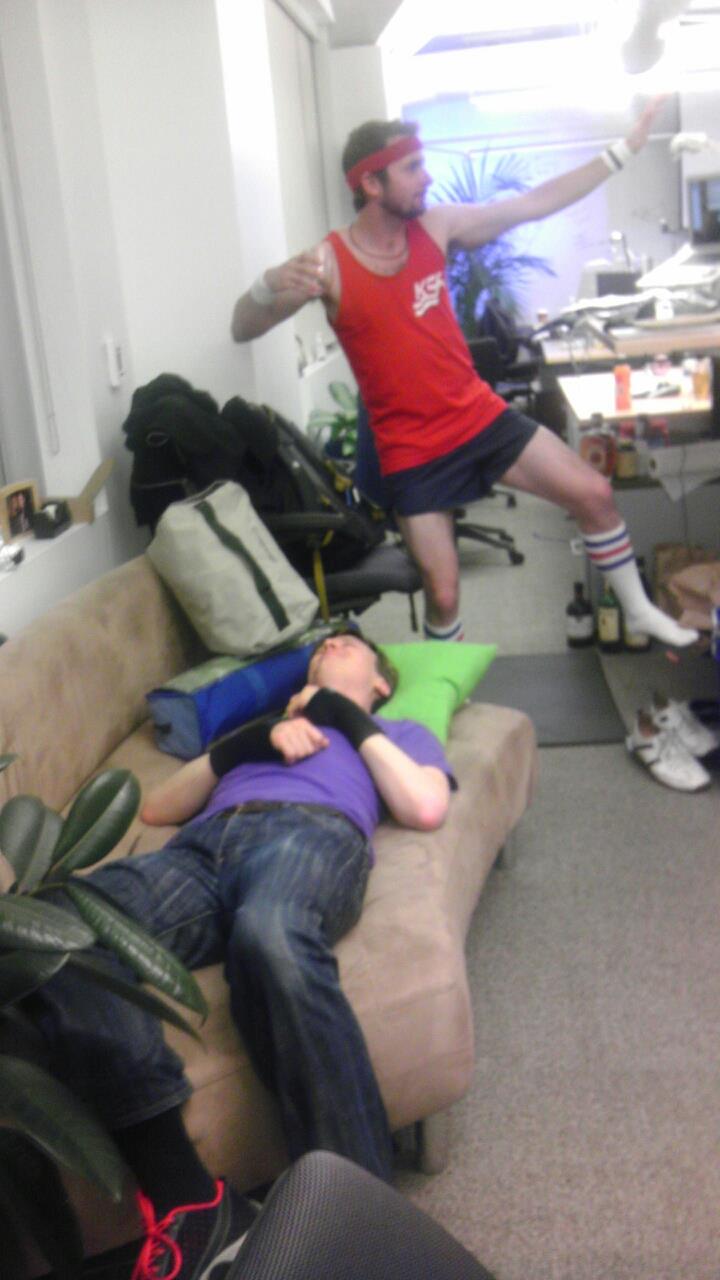 Mid-Makeathon: asleep in the purple shirt as Kelly poses above me
Awake at 7.30, I checked facebook - people wrote about staying, working through the night - excited I hustled back to the office by 8.30am. We had arranged a nice breakfast. All day there was bustle and cheer in the office until we stopped work at 3pm. Everyone gathered together and each of our 29 teams had 90 seconds to present their project. One of our people Amber had experience producing videos so she shot footage as the event happened and screened her excellent video at the end of our presentation.
I found a slide deck from March 2011 talking about "ngJams" - 15 months later we finally hosted one! Afterwards I ran a survey to gauge the impact and the response was near universally positive, talking about the joys of collaborating across teams and flexing creative muscles.
A few months later I proposed a second Makeathon for 2012, towards the end of the year. Did we have the appetite for two full days of lost "productivity" in favor of innovation? Our leadership replied: we can have another Makeathon once we hit our targets and we were making the numbers we needed to sustain and grow the business.
from Values to Qualities
We had positioned our values at ngmoco:), Delight & Own, as something to aspire to. Yes, something that we expected from ourselves and new recruits. But also something we held up as an ideal.
DeNA instead had 5 Qualities - baseline characteristics. Operating standards that you could expect from anyone you worked with.
In mid-2012, DeNA and ngmoco:) founders collaborated to update the DeNA Qualities. They would now include Delight and Ownership, in addition to Be the Best We Can Be, Transparency & Honesty, and Speak Up.
We communicated these new Qualities through managers, through our leadership at All Hands meetings, through booklets we gave to employees. I worked to suffuse the language into my work throughout the company. I aspired to do more to creatively engage employees around DeNA Qualities but I was too busy with the tactics of Communications to get to the strategy of Culture.
tactics over strategy
Without Stephanie, much of the day-in-day out work of Culture began to lag. I didn't have the bandwidth to update an intranet, video interview new employees, edit and publish a monthly PDF newsletter, host creative, activity-based, fortnightly happy hours.
My major duties were maintaining our Communications channels. Scheduling, agenda-setting, emceeing and videorecording All Hands. Scheduling, videorecording our Leaders Forum meetings. Hosting and recording the occasional Get Schooled session.
I added a weekly email summarizing the most impactful things happening around the company. I thought, if people only read one thing each week about the company, can I provide them global context? I used a service called Yesware that allowed me to track how many people read my email each week - roughly half the company.
I was excited by the "WorldWide Group Slide" show - a folder in Dropbox shared by our locations in Amsterdam, New York and San Francisco. Any image in that folder rotated into TVs placed in those offices. At ngmoco:) San Francisco, we had a TV in our kitchen and we would see smiling faces from Amsterdam, or cartoons about the game industry from New York. I pushed our experts to develop single educational slides on key concepts - with large fonts and pictures! - to help increase our general literacy.
In the fall of 2012 I surveyed our global employees - rerunning the Denison-type survey from 2011 so we could compare the results year-over-year. This year I was in charge of the survey rollout, and I was extremely proud of achieving 95% participation with just 1 email to all@ngmoco. Instead I leaned on the managers and the executives - using the systems and frameworks we had built over the last year. It was fascinating to see how much we had evolved since we'd last run a survey - that I could expect the organization to share purpose and achieve something like that, large scale brief collective focus. I've worked for many startups, but this ngmoco:) / DeNA experience was the first time I had witnessed the power of large groups of people aligned around shared priorities.
Global Culture
In July 2012 I was invited to a wedding in Brooklyn. With my girlfriend Ilyse I went a few days early to New York so I could work out of our Brooklyn-based studio, Freeverse. There I interviewed the employees, filmed b-roll, and produced a video to introduce Freeverse to the other hundreds of mofos who may never get to meet them.
Visiting one of our "remote studios" (as we called them) as a profound experience.
Each week at headquarters we hosted a "Directors Forum" meeting for leaders to meet up and share in a common truth. We hosted a conference call for folks in abroad to join in. When I was in Brooklyn I joined this call and it was impossible to hear. You couldn't make out 60% of what was being said - it sounded like the teachers or parents in the Peanuts / Charlie Brown TV specials of my youth - mumblemumblemumble.
In September 2012 I had a trip planned with my Mom in Europe so I visited our studios in Stockholm Scattered Entertainment, and Amsterdam, Rough Cookie. In each of these studios I spoke to the employees about their connection with the mothership in SF. Many folks were happy operating independently. Life in the SF office feels so charged with global meaning, but these folks were just trying to make great games and not deal with too much irrelevant email.
At that time we allowed anyone in the company to email all@ngmoco - an approximately 300 person email list. People routinely sent "welcome this new employee!" or "goodbye y'all I'm outta here" emails which went to hundreds of global employees who didn't know these people, would never see these people. all@ngmoco was a legacy from a time when we were all in the same room. The programmers at our European studios told me they filtered all@ngmoco emails to the trash. Ouch! That was one of my primary channels for sharing culture!
in August we decided to moderate email to all@ngmoco. Now each time someone emails all@ngmoco we ask: does an artist in Sweden, an office manager in Amsterdam, an engineer in Chile need to know about this? With moderation, the traffic on all@ngmoco went from 203 messages in July to 13 in September.
So I promised to dramatically reduce the amount of email, if they would turn off their all-to-trash filters. Also, at the request of these remote folks, I formed engineering-all and artist-all email lists, for communities of expertise across our locations.
Rebranding
DeNA purchased ngmoco:) in October 2010. The founders stuck around afterwards and worked to fulfill the promise of our global company making a mobile social games platform spanning both of the major mobile phone ecosystems at that time: Android (Google) and iOS (Apple).
Two years later October 2012, the original founders of the company decided to step aside, and a few other long time senior executives went with them. A new generation of leaders rose up - fascinating to see.
The new CEO of ngmoco:) was now Clive Downie, who had previously run our marketing and game teams. Clive was hugely interested in transparency and people. He could be seen meeting with folks in our kitchen. He sent out the minutes from the executive meetings each week, to increase transparency. So Clive as CEO made my communications job immediately easier. Back at Swarthmore College, I ran meet the Prez sessions so Al Bloom could mingle more with students. I didn't need to run any sessions at for Clive to mingle.
Then, as Clive settled in as CEO of ngmoco:), we decided to align ourselves more strongly with our parent company DeNA in Japan. Two years after acquisition, DeNA had become an worldwide leader in mobile social gaming. Our games sat at the top of charts in the US and Europe and Asia. So how about acknowledging that we all work for DeNA? And we might even be proud of it.
I lead some focus groups to see how people felt about the transition. Many people are strongly attached to their identity at work. Would they be bothered or excited by working for DeNA instead of ngmoco:)? During the focus groups people were asking, can we keep the smile in the logo? I knew that the new DeNA logo had adapted a smile, and I was delighted to have seen it. A hard, happy secret for me to keep.

On January 10, 2pm Tokyo time, evening on 9 January in San Francisco, we watched from home over a live stream as DeNA Japan launched their new logo. No longer did our logo look like an eCommerce or medical device company. Our new logo looked a lot more playful to me! Fortunately the response at the office was the same - most folks felt excited to have a fun logo for our company, and after all our conversations people were ready to transition. From mofo to DeNA employee - I've left open the question of "what do we call ourselves now" because it seems more authentic to let that name emerge from people's actual practice of life at work here, rather than declaring something.
Recruiting?
I have been learning to tell the story of the company to itself. Helping people understand their place and context. Early in January 2013, I was neck deep in finishing the transition to our identity as part of DeNA. Answering employee questions, coordinating business cards. Working with an unstoppable programmer Bhaskar to build an internal app to show an org chart and photo directory - a constant employee request that was actually taking shape after a Makeathon project that people wouldn't stop working on :-D
15 January 2013 my manager Jen pulled me into a room. You're good at telling the story of the company back to the company internally. We want you to tell the story of the company externally: to candidates. There's a huge emphasis placed on building the right teams this year, so would you move to recruiting?
I have loved doing Communications & Culture - I was in the midst of interviewing to find another Associate to handle the C&C tactics so I could be more strategic. If I had more breathing room, I wanted to integrate innovation into our practices. How do people get a chance to develop new ideas? Employees routinely approached me with suggestions, because I am identified with new initiatives within the company. When I had a Culture & Communications team of two, we were able to make the company more resemble the dreams and schemes of our people. That felt authentic and exciting to me - to have a company resemble its people.
I also felt excited by the leanness of a Culture & Communications team of one. I like startups, I like scrappy, I like making due with not too much. But with hundreds of global employees in the west and then thousands of people in Tokyo, it was hard to keep my head above the basics with just myself.
In mid-January 2013, we had a functioning insights mailing list where people shared ideas. We had a transparent executive team keeping employees in the loop. I was hosting Get Schooled sessions, but there wasn't an online repository, playbook, DeNA-a-pedia, whatever, where you could go learn. The Heartbeat internal dashboard was a bit of a mess, irregularly updated and seldom promoted. We didn't have another Makeathon on the horizon. I didn't have plans for our upcoming events in 2013. So there was a lot of catchup to do, or killing of darlings. Once a system was put in place and some people expected that channel, it was hard to make the time to shut it down and communicate alternatives. After almost two years of Culture & Communications there were some self-sustaining successes in my wake but also a lot of cleanup to be done.
I believe we had a positive impact, the people working on culture. I would say it was me, Alan, Stephanie. And Christina, Jen and the HR team. But really, I liked to say that we had a global culture team. When I was doing the monthly newsletter, from January 2011 to August 2012, each person who contributed or consented to an interview was part of the culture team. Each person who emailed letsdothis@ngmoco was contributing to the culture. Each person who dressed up for Halloween contributed to the company culture. Each person who approached me in the hallway with a request or suggestion. Everyone in the Makeathon, which was just about everybody. Culture is people, it was all of us at ngmoco:) / DeNA and just by being mindful of it we created a more creative, celebratory, participatory place to work each day.
I play the role of an ngmoco:) / DeNA editor. I am constantly on the lookout for compelling stories about our creative business that are being told in small groups and corners of the company. I then figure out how to get those stories out and who needs to see them. I'm information traffic cop, and editor, a curator of information.  And now, as I contemplate a new position, it actually seems relaxing to narrow my focus within the company. From engaging every employee, every team, every potential story and idea, to finding the right person for a needed position on a specific team.
Ultimately I love learning new things. So the more I thought about taking up Recruiting and giving Culture over to someone else, the more I felt like I would enjoy the new challenge of learning and frankly enjoy a break from the nonstop Communications work. Fortunately I was assured that a most excellent colleague would be stepping in to manage Communications & Culture - someone who has already been contributing much to the spirit, context-setting, and momentum around the company.
A number of friends have reacted to the news with surprise and a bit of dismay - "Director of Culture & Communications" does sound cooler than "Recruiter." It will be exciting to give up something noteworthy to see what else is out there.
So starting January 2013 I transition from Culture & Communications to Recruiting. Apprenticing the art of building teams. Learning what people want and how to find people outside who can fill those spots. I'll do a few months of that, and then.... ?
---
Books and Reading
Delivering Happiness by Tony Hsieh, ie "the Zappos book"

A breezy happy quick-read primer on mindful corporate culture. ngmoco:) actually purchased copies of this book between 2010 and 2012 for new employees. I read it and was struck by the bottom-up approach to sourcing values. We didn't do that at ngmoco:) / DeNA, because our leadership felt we needed a clear razor against which to motivate and align global employees across language and oceanic barriers. Neil said this book was important for people to read to understand an obsessive focus on customers.

Exploring Culture by Geert Hofstede

Chris Dawson recommended that I read Geert Hofstede's works on global culture. This was a fantastic chance for me to understand some of the potential ingrained differences between Japanese and American, European and South American employees. I ended up printing out some cheat-sheets on global culture differences and posting them in the ngmoco:) kitchen to spur discussion.

Tony Schwartz's Energy Project

Christina was a huge enthusiast for new ideas and new materials to inform the Human Resources "People" team at ngmoco:). We met in conference rooms to listen to Tony Schwartz and the Energy Project discuss ways to optimize human engagement at work. Discussions on singletasking, getting adequate sleep - basic modes of conduct that helped me evolve my personal practice and helped me advise my colleagues on avoiding burnout.

Net Smart by Howard Rheingold

I really saw this C&C role within the company clearly as I was reading Net Smart. Rheingold synthesizes a wide range of sources to explain how we can inflect our lives and our personal productivity by being mindful of our own online culture and communications. Reading this book evolved my apporoach our internal education and community building.

Influence by Robert Cialdini

This is a popular book for people in marketing. Running internal communications, I was keen to see how I could influence people to participate in my initiatives. Cialdini's basic concepts and examples helped me evolve my approach to group email writing, flyer making and general techniques of persuasion.

Tribal Leadership

Finite and Infinite Games

Virtual Community

Smart Mobs
Why do this?
Tallulah Bankhead once said "only good girls keep diaries; the bad girls never have time."  Documenting my life this way, I can work hard, have crazy fun, and still feel like a "good girl."
Plus I believe in a good company culture, one that responds to its employees and evolves around their ideals. Maybe this story of one company's efforts to bolster Communications & Culture can help someone else attempting similar measures around their own company.
I started this writeup as a brainstorm for sharing corporate culture during a talk at the Game Developers Conference in March 2013. It doesn't look like that talk is happening, but maybe these ideas can still reach someone in a useful way!
[last updated January 2013]
justin's links by justin hall: contact