Recruiter @ DeNA
At ngmoco:) / DeNA, I was a producer of games, which was awesome - the culmination of my grad school education, and a fine second-prize for running my startup GameLayers. And then I was Director of Culture and Communications within a global mobile entertainment company! That was the cutting edge of the cutting edge. When people asked what I did, and I said "I'm the director of culture & communications at a mobile gaming company" there was often a raised eyebrow and some ready curiosity.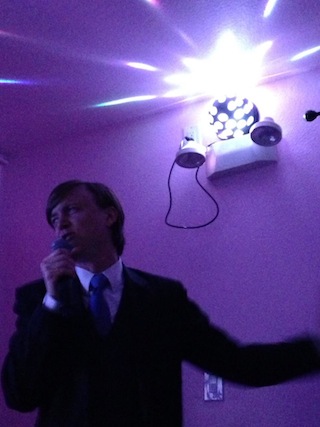 Dressed for work, singing karaoke, just as I was becoming a Recruiter. Thanks to my colleague Jeet for this pic!
22 January 2013, almost three years after I started at DeNA I was offered the chance to serve the company as a Recruiter. This doesn't mean stalking people online to suggest they take new jobs; that's the work of "Sourcers": people who find candidates and resumes and put them in our database. Our Recruiters manage the list of candidates, working with our internal teams to select and bring aboard the right folks. So I would be brokering those relationships, negotiating with potential hires, and closing the deals.
"Recruiter" seemed like a letdown to my friends when I told them about the offer. I would be demoted from Director, no longer invited to meetings of leaders within the company. I would go from running a department to apprenticing. Moments like that I often think of Walter Kurtz going to parachute school. Good to give up on status and comfort in order to push yourself and learn new things.
So I began apprenticing as a Recruiter. Over the course of my work at ngmoco:) DeNA, you could say I went from making games, to aligning people with the business context and mission, to making teams. I did some recruiting when I ran GameLayers; finding engineers, a CTO and even searching for a CEO to replace me: this is more explicit focus and practice on the fine art of personality balancing.
My first full week, I had my first successful hire. Yay! And then whoa - I had to work with my teams to align my view of recruiting with theirs. Pushing back against speed sometimes maybe, pushing forward through my own ignorance all the time.
Working on my recruiter-ethics, I was suddenly reminded of my father, and what John C. Tucker's eulogy said about his approach to hiring:
One of Wes' greatest concerns was how, and indeed whether, it was possible, to retain humanity in a law firm of our size. He was especially concerned about the younger lawyers, and he fought ferociously to protect them from the dehumanization which he so greatly feared.

I don't know how many years Wes served on the firm hiring committee, but it must have seemed to him forever. For years he was by far its senior member. We would not let him go. To those who didn't know Wes, it must seem strange. Why would we want that old curmudgeon recruiting law students? It was, of course, because he was so wise, so witty, so urbane, but mostly it was because he cared about the students -- and they knew it.

A few years ago, after a hiring committee meeting in which the candidates for employment were discussed and dissected in an especially cold and impersonal manner, Wes distributed to the committee a passage from a story by one of his favorite authors, Franz Kafka. The story is called "In the Penal Colony," and the passage is one of stark horror, in which an executioner describes with complete dispassion the awful process by which he put his victims to death. On behalf of Wesley, I commend it to all of you.
So I find myself in my late thirties, a professional man wearing a jacket and tie to work each day, working to preserve and promote humanity within a large firm. Like my father before me! Except with less drinking and fewer children [none] thus far.
In early 2013, we list our jobs on the ngmoco.com careers web site.
Three Weeks In
When I was director of Culture, I served all the company, sorta. My "customers" were all employees who hungered for knowledge and context. I produced media and maybe someone said "thanks!". Now, in recruiting, I have more focused, specific customers: teams that need good people, and candidates that want to advance their careers. So far I helped one person make a transition from working in finance to working in games. I gave another guy one of his first jobs after college. Direct human impact - that's an exciting change from media production for a broad audience.
"Recruiting" might seem to imploy a preference about people's careers towards work at my company. Like I'm drafting people, demanding participation, or hoovering up people of all shapes and sizes to be sorted later. Instead of a job-pusher, I like to think of myself as someone seeking appropriately crazy people to thrive in this particular tribe.
Overall, my goal as a recruiter is that everyone on earth find meaningful work for themselves - at my company, or somewhere else: our competitors, working in a new startup, or somehow helping people and expressing themselves.
DICE
I began writing a column for DICE, the recruiting web site, and giving talks at their conference.
Leaving
Moving over to university recruiting seemed like a fun goal but I realized this company had an insatiable appetite for CS grads and MBAs. I had envisioned something more like visiting unversities, connecting with grad programs in game design and playful programming, and fill a pipeline of interns and student projects to mentor. The company was not going to be in that phase for a while.
Between January and June, working with a mostly merry, deeply dedicated and mutually supportive recruiting team I signed on individuals for these roles:

UI Artist
Art Director
Game Analyst
Brand Manager
Junior Producer
Graphic Designer
Event Coordinator
Corporate Counsel
Marketing Strategist
Game Event Designer
Art Outsourcing Manager
Performance Marketing Manager
Product Manager: User Acquisition

I saught to hire a hadoop developer for our analytics team and a systems administrator but couldn't close anyone in the time I had.
Afterwards, I left the company and commenced work on The Justin Hall Show.
justin's links by justin hall: contact