Thursday, 28 October -
link
Letter to My Landlord
Dear Sir,
I have a few complaints about my living situation. After repeatedly hoping to get some time with you to resolve these issues, I am writing this letter to detail my grievances.
This is a list of outstanding issues on the Culver City property:



Your hack-job carpentry project is still taking up space in the back yard. When should I expect to see the results of that? Some seating outdoors would be nicer than these piles of planks.
You bought a washer/dryer over two months ago. I saw the receipt. Why hasn't it been installed yet? Perhaps because the aforementioned planks are piled up on the concrete slab where the washer dryer will sit. I should let you know - the rains have started. Good luck installing an outdoor washer-dryer without any kind of enclosure prepared. While I have little idea how you plan to keep the laundry machines dry and functioning, I still maintain hope I will be able to begin washing my clothes some time this year.
You said you bought a new couch. Where is it? Yes the current couch is lovely, and vintage, but I'm not into vintage stains. Your ad on Craig's List generated a lot of interest; when are you going to reply to those people?
The heater is still broken. You've known about this for over a week. I'm now wearing two layers of socks and pajamas to bed. When are you going to deal with this? Last night I almost wore a stocking cap to sleep. This is Southern California! As surprised as I am by the cold, I'm more surprised that you haven't made time to deal with it.
Since July now I've been sleeping mostly on an air bed. All the fun of sleeping on someone's floor without the camaraderie. It's getting old. When can we arrange a time to pick out a proper mattress for my bedroom? I think I might just go buy a mattress on my credit card and send you a bill.
There are no functioning blinds on the windows. Two nights ago, I thought I heard a prowler just outside but I didn't want to move because I thought they could see everything I was doing. Basically, I have no privacy. You must install blinds for me! You said you'd ordered them, and a few of the windows were finally covered. But then you changed your mind on the design and now I'm supposed to wait another month? Fortunately the cold has curtailed my level of personal nudity around the house, but nevertheless, I find the lack of privacy offputting.
You said there would be someone coming to clean regularly. Then other times you'd said you'd do it yourself. Which is it? The kitchen floor is starting to look skanky.
Many of the closets here are still filled with your crap. Do you have plans to use this stuff, or will you please get rid of it? I'd like to have some space for my things.
Your use of the back deck for emergency CD storage was inspired. The plastic tarps covering the boxes filled with your media have been peed on by neighborhood cats or possums or something - the smell is not appealing. Fortunately, some of that has been washed away by the massive amount of rain we've had, which has formed large puddles in a few of the open containers. Good luck with that - I trust you will remove that eyesore before the holidays.
You promised there might be rugs on some of these cold tile floors. The complaints I've listed above are higher priority, but a rug can really hold a room together, and keep my feet warm. I see a rug piled up in the corner - what are you waiting for?

On a more positive note, I include this photograph of the brugmansia tree. This week, it seemed to have nearly a billion blossoms.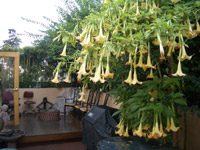 I won't tell you about the sizable leak in the roof over the storage area behind the office - most of the boxes back there are beginning to swell and show signs of new life. Whatever you're keeping in there might be better with mold, but I doubt it. The gentleman you hired to make repairs did a fine job tying up some garbage bags under the leak - I hope you rewarded him well for work you could have done just as easily when I first alerted you to the problem.
You're a new home owner; congratulations. Do you think you might have bitten off more than you can chew? It's a lovely place, I hope you can keep it that way.
Sincerely,
Justin Hall
Posted on 28 October 2004 : 17:50 (TrackBack)
Read Comments
February 2005 - comments are closed on Links.net. Thanks.