hecker shorn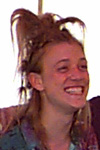 I used to have dreadlocks. A single one mostly, stuck up on top of my head. That's called a stovepipe dred, Scott told me. Maybe if I'd known that I would have kept it on longer, worked it into some kind of personal machine architecture.

I cut the dreds off with a knife, when I realized I was spending a lot of time convincing people I wasn't insane. In spite of my stovepipe. I cut those nappy hairs off and I had a much more reasonable comb-over instead. Viola, I met Amy just a few weeks later.

Friend Chris has dreds, and his wife Jen to convince him he actually is insane, and he needed a haircut. By the look of the smile on his face when all his hair was shorn today, it looks like he had something to be happy about amidst all of that.
Posted on 8 August 2004 : 23:58 (TrackBack)
Read Comments
February 2005 - comments are closed on Links.net. Thanks.