tell your friends to vote
Many of my friends are politically engaged this year. They hosted Howard Dean parties.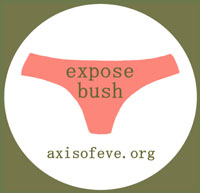 They're reading and writing about politics, giving money to candidates. They've joined the Panty Protest with the Axis of Eve.
I'm excited for two things, myself:
One, the 2004 Republican Convention in New York City could be as momentous as Chicago 1968. Four months in advance, people are gearing up to express loads of pent up feelings, about war, about terror, about fear. If they're as creative and entertaining as the Axis of Eve, the streets of New York City should resemble a giant street carnival. If they're too angry and they won't stay confined to authorized "free speech zones" set up in New Jersey, it may resemble Seattle 1999. A friend who lives in Manhattan asked me for the dates of the convention (August 30 - September 2) and promptly booked travel during that time.
The other thing I'm excited for? Or at least tickled by: the conservative Heritage Foundation has drafted Ed Meese for a third party run (video). From the press release: "calling the administration's war in Iraq 'the biggest market distortion in the history of humankind' and 'crony corporate welfare on a truly gigantic scale.'" Maybe pissed-off free-market Republicans will join my panty-proud friends in the New York? Dancing in the streets.
Mom reminds me, for all the partying, kvetching and media making, the important thing is to vote, and to tell your friends to vote.
Posted on 3 May 2004 : 08:58 (TrackBack)
Read Comments
February 2005 - comments are closed on Links.net. Thanks.