pie any means necessary
I'm studying martial arts - Aikido. In Aikido, atemi describes a blow from the hand. In my dojo, we use non-striking atemi - pushing our hands in front of someone's face to cause them to back down, or at least forget their attack. Ideally, we don't ever strike someone, but we shock them and hopefully defuse the agression.
The Biotic Baking Brigade walks that line - they push soft creamy things in people's faces. They make contact. Last month I took a break from the Indie Game Jam to run over to the AK Press warehouses - Agent Apple was there for a book signing, to celebrate the launch of the Biotic Baking Brigade's Pie Any Means Necessary - a book recounting aggressive culinary protest.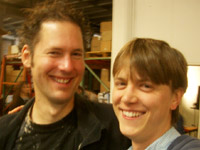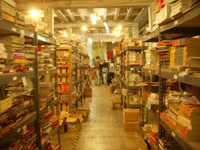 Agent Apple with pie on his collar; view from the AK Press stacks
I was glad to see AK Press carrying the writings of Clarence Darrow and they smiled when I mentioned Garrett County Press.
Posted on 9 April 2004 : 11:01 (TrackBack)
Read Comments
February 2005 - comments are closed on Links.net. Thanks.