Just In Tokyo Released to the Waiting Web
I lived in Japan between October 2001 and January 2003.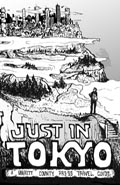 Mostly Tokyo. I published a guide book in September 2002, called Just In Tokyo: "How to Live as an Urban Nomad in the World's Most Expensive City." It was great fun - I wrote it up and laid the whole thing out; the pages are busy, just as I like 'em.
My publisher was Garrett County Press, in New Orleans. After about a year, we agreed to take the guidebook off the market. I would have published the thing forever, but it was selling slow (slow and steady!) and losing some of its direct relevance as it aged.
So I've released it to the web, under a Creative Commons license. Just In Tokyo PDF - download it for your next trip to Tokyo! Visit the Tokyo of the mind! Print it out. Push it into your PDA. Chant it in an airplane bathroom. As you will! Donations appreciated - I'm still paying off the debt from my time in Japan! Hah!
Posted on 2 March 2004 : 08:23 (TrackBack)
Read Comments
February 2005 - comments are closed on Links.net. Thanks.