Friday, 16 January -
link
Personal Filing: Joichi Ito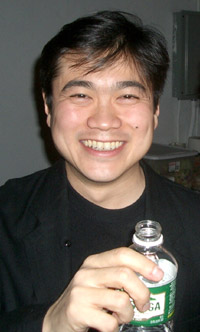 Joi Ito is a brave, curious citizen of the future international society, he is generous with his mind and the unusual connections he's made in a short dense life lived between culture, computers and a commitment to the application of imagination. He invests with Neoteny, holds court on IRC, serves on a dozen boards between the US, Europe and East Asia. And he's a gadget-hound, DJ and new dog-owner.
A person with so many interests and occupations must have an unusual Personal Filing scheme. Here's what Joi said:
In order of value:

My blog has just about every interesting thought and important link that I have seen so Googling my blog with site:joi.ito.com is a file search I use several times a day. That with a page slap can answer most questions

Next is my wiki. http://joi.ito.com/joiwiki/

Next is searching email

Next is http://del.icio.us/ for links

Photo's... I've started using iPhoto Buddy to make new libraries but
local photos are difficult to search because I don't have good
metadata, but I have most of my good photos in TypePad photo albums.
See joi.typepad.com

I started recently using SBook5 for notes about people. (Barlow tip)
(Note: that photo above is from the Creative Commons party - Joi was posing with Danah, but I caught her with her eyes in meditation stance!)
Posted on 16 January 2004 : 17:41 (TrackBack)
Read Comments
February 2005 - comments are closed on Links.net. Thanks.