Thursday, 15 January -
link
Post Porn Posting
Finite time. Go to Aikido twice a day and you don't have as much time to pleasure yourself, nap and file porn pictures. And work on writing. I did interview a mobile game developer in England on the phone for < one hour. I like long overseas phone calls for research. Though my phone bill last month was over $200 - doubtless my > hour interviewing India.
And I worked on various web sites. Cleaned up, did laundry. Fortunately I had a half a porterhouse steak, a quarter piece of prime rib, some green beans and some scalloped potatoes from a fine steakhouse left over after last night. Breakfast, lunch and dinner! Dammit I didn't leave this desk for more than three waking hours today. I did start reading "The Lexus and the Olive Tree" - got about three pages into it before I passed out cold on my couch.
I'm glad to be able to say that I posted up the rest of my Vegas/Porn convention coverage. There's three parts, you'll see them on that page. Here's two teaser pictures, leading to the two articles posted since the last salacious update: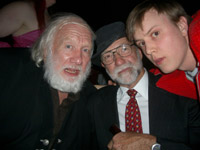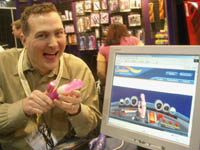 Left: three oldsters at the Adult Video News Awards.
Right: Sinulate CEO S. Rhodes holds the Sinulator, a wirelessly controllable online vibrator covered in TheFeature.
A quiet spiritual part of me loves the 6.30am martial arts practice. But it's running modern Justin down - I need more hours in the day, and my work and community is oriented around 8am to 1am waking hours.
Posted on 15 January 2004 : 23:41 (TrackBack)
Read Comments
February 2005 - comments are closed on Links.net. Thanks.