First word from Vegas
Emailing with Don Hopkins -
"Vegas, huh? Well say hi to SATAN when you see him (and I know you will)!"
The first report from the porn convention is up: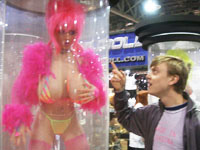 Highlights include: remarks from Larry Flynt, lunch with Carol Queen, touching a Real Doll, and the kustom kinky blanket.
Posted on 9 January 2004 : 12:52 (TrackBack)
Read Comments
February 2005 - comments are closed on Links.net. Thanks.