Wednesday, 14 January -
link
Personal Filing: Peter Merholz
A co-founder of Adaptive Path, Peter Merholz is a fantastic active mind. He reads widely, and fortunately for us, he applies much of what he reads to information architecture. His site, PeterMe has long been a nourishing place to study the unconscious principles of organization in our daily lives.
He sent a short answer on his scheme for Personal Filing:
Right now, I organize everything in iCal.

Mostly using ToDos (right hand side). I try to put in there every little thing. And I use it to store writing ideas ("write up keynote presentation", "drawing of overlapping disciplines"), etc. etc.
And a picture: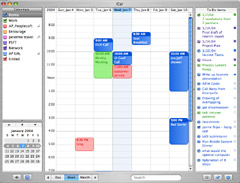 Posted on 14 January 2004 : 10:37 (TrackBack)
Read Comments
February 2005 - comments are closed on Links.net. Thanks.