Monday, 12 January -
link
What Do I Look Like?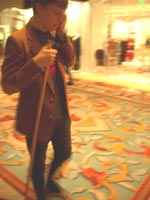 This is what I look like limping through the Bellagio, talking on my mobile phone. I wasn't hurt, but friends recommended that I couldn't expect to carry my jo through a casino. "That's a weapon, Chester" they told me. Or a cane. So in black leather pants I hauled my 29 year old frame slowly across the bright carpet, tapping loud on the marble floors. Proudly rocking a SAME helicopter shirt.
Photo: Ethan, co-proprietor of The Veranda House.

Posted on 12 January 2004 : 17:47 (TrackBack)
Read Comments
February 2005 - comments are closed on Links.net. Thanks.