Saturday, 6 December -
link
rock for light
If you evesdropped on my life you might see a noticable uptick - the songs on repeat moved from morose contemplative into sheer push this week as I somehow stumbled on a dusty pile of Bad Brains MP3s. I don't know anything about this band except that I once saw a video clip of Perry Farrell describing Jane's Addiction as a mix of Duke Ellington and Bad Brains. I've spent years with the Duke; I'm enjoying the other half of the equasion.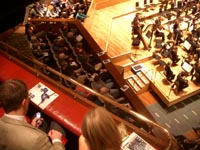 My brother sending off a flurry of text messages from his seat at the Royal Festival Hall before a fantastic, frenetic Beethoven Piano Concerto.
Today I flew to London. Picked up a key in an envelope in the lobby of a large whorehouse turned apartment building and passed out in the nearest empty bed in a cramped sixth floor apartment with glorious windows. Eyes blindfolded, ears plugged, I was shocked awake when three people joined me in bed, jumping into my sleep. One had a quivering nose, pink hair and a shirt showing her shoulder; nineteen years old, she was agreed to be my fiance just before she met my parents in this living room here, I had to ask her last name after introductions were made. I did manage to fix her up a decent ring with some pliers.
So now I'm looking forward to sleep again, late it is, but I drank caffeine today. Between Bad Brains and coca-cola I'm ready to tear something up. Craigslist Casual Encounters is fun reading in any city; even London. Seems to have a better w4m percentage than many of the other cities I've been in. But where the hell is Lanarkshire?
Imagine if I could get on the mobile internet - my queen bed is empty and I'm awake only knowing my location online. It's cold on the streets but warm on the wires. I'm most jazzed to be leaning over into work again, somehow compulsively writing and drawing - paying attention, poetry. mobile.links.net.
Posted on 6 December 2003 : 17:58 (TrackBack)
Read Comments
February 2005 - comments are closed on Links.net. Thanks.