Wednesday, 29 October -
link
escapee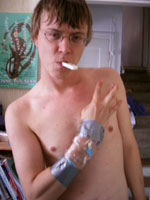 Photo: Austin Wrist-prepped for shower; taking temperature and flashing West side.
Carrying my load of spanikopita and humus I stride out of the
Emeryville Public Market
- a broad collection of stores attracting all manner of East Bay folks. Amongst these many human types, I feel awkward - a short sleeve shirt missing a few buttons at the bottom reveals a needle in my arm and a long tube wrapped around my wrist. I feel like an escapee - on temporary leave from a hospital situation.
And so I am. Dressed up nicer, in a long-sleeved shirt, only the hint of a medical wrap extending past my sleeve, I fit in fine. An accountant is advising me on incorporation and taxation at a Mexican restaurant near my house. I ordered lemonade and some guacamole. I've drank two glasses now and I still feel dehydrated. I can't eat the guacamole, that's something I've never been able to say before in my life. I mean I could eat guacamole if it was spread on shit. Unless is was that liquified gucamole that doesn't need refrigeration. Youch.
And I start to feel it - the call of my couch. My head is beginning to droop. I have to hold it up. It's not like I'm falling asleep in class, it's like my entire body is beginning to shut down. Weariness is setting in rapidly - I excuse myself from the meeting and drive home with Siouxsie, happily parking myself at the computer before I recline fully to recover from my brief sojurn away from my medicine. I feel like Elric, without Stormbringer.
Posted on 29 October 2003 : 19:05 (TrackBack)
Read Comments
February 2005 - comments are closed on Links.net. Thanks.