Monday, 13 October -
link
Robin Rocks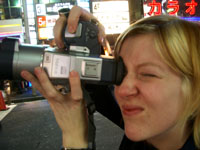 Avid photographer Robin Hunicke snuck up on the web and posted reams of photos from our week together in Tokyo. We went to the fish market, here's her Tsukiji Tokyo Fish Market Photos (including my favourite - quel atmosphere!). It's fun to see another set of eyes on my Tokyo travels, including my footwear! Heck, all her photos are good looking. Here's an astonishing photo of the guy who is staying with me in Oakland, Austin. Don't see much of him these days though. In the last month, I've seen more of Robin!
Posted on 13 October 2003 : 05:47 (TrackBack)
Read Comments
February 2005 - comments are closed on Links.net. Thanks.