Saturday, 4 October -
link
provoked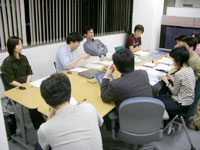 A Committee meets to develop game culture curriculum for Tokyo University - actually, they discussed schedules, as best I could tell. I couldn't tell much! Not their fault, but mine. Before my descent into tired ignorance, I did get an expert interview out of Shin-san, Tokyo IGDA pioneer, in the blue shirt, smiling as he so often does.
I am feeling
provoked
from silence. I spent over 15 hours in the last two days in conference rooms in Japan, largely surrounded by a language I barely understand, left with a few diversion devices and not much to say for myself in terms of adventure. Day 1, I was hunting a story, scraping game developers in Japan for an angle on the
Tokyo Game Show
and the
seeming nadir
of Japanese game development. The scuttlebutt is that the industry here is moribund - somehow I ended up sitting in the back row during a meeting of college students debating when to schedule their next meeting for the gaming academics committee. It may have been scintillating stuff; all I could say was jesus thank you Nintendo I'm glad I brought my game boy advance for three hours of overhot conference room in two layers of shirt and sitting through all this crap for what I hope is a good tip at the end of the meeting,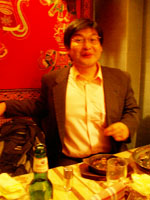 Aki - a generous warm-heated associate professor studying the video game business here in Japan.
some nugget of insight or slight that explains why Japan is falling off as the world's electronic entertainment leader. Instead, I was recommended to go see
zatoichi
by a guy who seemed to Jane on another occasion like he might be the
ryan junell
of japan, at least in countenance and disposition. and I went to dinner with him and two college students at a good indian restaurant. he was smart and chatty and kind. but i was still not much closer to the truth. maybe the truth is within me, a story hatching from the heat expiring from my constantly sitting buttocks -
today i came to this conference room at 11.30, at neoteny, for a chanpon.org hackery session. when I'm surfing fascinating news and culture and posting it on the site and tracking down writers and posting their pieces, I feel like a goddamned international correspondent winner.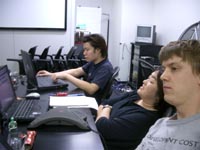 Kuri, Junko and Justin after fourteen hours of tech support, pocky and pringles.
But when I've been sitting here for 12 hours, in the same aeron chair in the same conference room, eating pringles and waiting for the US web hosting provider to wake up so I can inquire after DNS settings on their cheap servers, I feel like a total wasteoid - the only person in the room who can speak children's Japanese and idiot's tech, the man fated to sit with a phone in his lap, waiting for some clean cut young man in Utah to answer the phone so I can tell him I've been waiting for "24-hour tech support" to open for over 11 hours now. this particular company,
westhost
, was recommended to
Mimi
as a good web host - we signed up right as they were initiating a massive clusterfuck - migrating all their servers to some new software that turned all their customers into rabid enemies with a series jones for telephone help. So the "we will always answer the phone!" that was originally a selling point became "please bear with us through our recent tragedy." and I'm a compassionate guy, but I wonder, should I really be sitting around waiting for this head-in-ass company to get their fucking phones plugged back in, so I can join a shitstorm of unhappy clients clamboring for conversation with beleagured tech boys? or should I engineer another massive data and DNS migration to yet another web host that has yet to be hunted?
or maybe I'm in the wrong business to be wondering about any of this. Skipping dinner was a bad idea. I'm left to chew on my mother's accountant's advice for me - "everyone has three or four things they are working on, and only one or two that they are really good at." Like Pamela Anderson TV - has that really taken off? I've got so many flaming red irons that I'm juggling, should I be sitting on my ass in this conference room with a phone in my lap, fuming irrationally about mormon tech support technicians? I'd likely be sitting in another room, on the same internet, perusing mindlessly or creating other problems. what else could I be doing? there's a sex club in Shibuya happening right now - I've been there, I can tell you all about it. I'll bet it's now over 2/3rds populated by Italian photographers tonight - I was partially blamed for its watering down after my web report.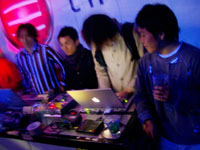 Video Hackery at the MEMProject. My host Kobayashi-san, stands on the right - I found MEM from his second business card he handed me, the night I was introduced by Yu-sama.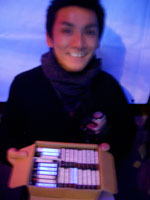 Hibiki holds his box of DV tapes - a video jockey on the go.
Amidst all of this, I have dreams still - I had this notion I might study sculpture, electronic - 3D modelling. When? Where?
Correspondence course
in future rendering. Seems like a useful skill to have! This was confirmed by attendance at
MEM Project
last night - I wouldn't have gone if SecoBar wasn't a block away from my
cheap fabulous lodgings
and I probably wouldn't have stayed if some girl I never talked to in white ripped jeans didn't smile at me. I drank alone and watched videos, until I had my mind blown by
Hibiki
- this slight manboy confirmed my dreams - text is the material digitally I feel most close to and he took text and made a world of them. text in flowing motion, text as the trenches of
atari's star wars
game. I sipped green tea liqueur and dropped my jaw in admiration, I stood inspired to make my story in some other form -
It's all my story, from me, and then I die. Jane is staying at her aunt's house, I'm staying at a hotel in the city. we've made a date tomorrow. a date today - it's sunday already. I'm going to see Jane later today. after I sleep, alone in a business hotel. what does that say about my life? what does that say about my life? what can i say about my life? all that business, some mobile technology, biased grousing, food details. nothing i ate i can show you now! we made a date, but it's casual. really!
Posted on 4 October 2003 : 09:06 (TrackBack)
Read Comments
February 2005 - comments are closed on Links.net. Thanks.